Is On-Site Water Treatment Good for Hotels and Resorts?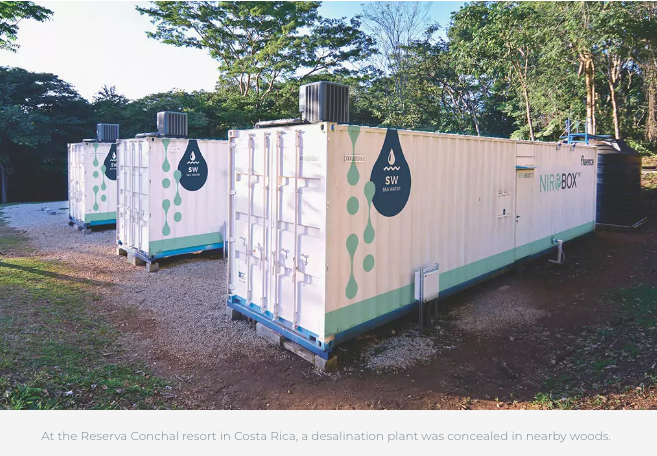 Sep 1, 2021 | FLUENCE NEWS TEAM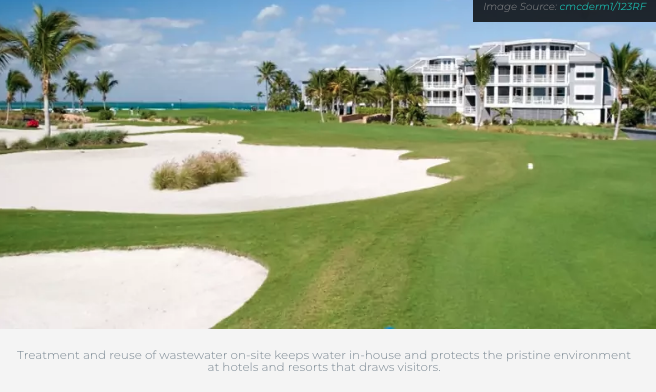 Golf Resortcmcderm1/123RF
Treatment and reuse of wastewater on-site keeps water in-house and protects the pristine environment at hotels and resorts that draws visitors.
Using decentralized options for water and wastewater treatment can save money and precious water while preserving ambiance
When you're away from home, what could be more relaxing than a nice, long hot shower or bath, or a swim in a sparkling pool? What about a round of golf on a brilliant green course? When you start thinking of the amenities offered by hotels and resorts, a common factor stands out: They use a lot of water. In the interest of better stewardship and the bottom line, hotels are looking for ways to save this precious resource.
Advances in desalination and wastewater treatment technology have opened up a world of opportunities for saving costs and improving sustainability in the hospitality industry.
What Works and What Doesn't
Most hotels waste precious drinking water on flushing toilets, landscaping irrigation, HVAC blowdown, and other applications when high-quality, nonpotable water could be used just as safely. And hotels generate a great deal of wastewater that's suitable for reuse.
Even in cases where wastewater is treated for reuse at a centralized plant, hotels don't directly benefit from the recycled water. Treatment and reuse of wastewater on-site, however, keeps water in-house.
Many coastal resorts exist where municipal treatment infrastructure is inadequate, and untreated or partially treated wastewater is discharged into the environment with sometimes disastrous effects.
In one example, on Boracay Island in the Philippines, hotel and resort wastewater caused unpleasant beach conditions, prompting a total shutdown of tourism there for six months. In the Caribbean, in 2016, 85% of wastewater was still discharged untreated, leading to harmful algal blooms and devastation of coral reefs.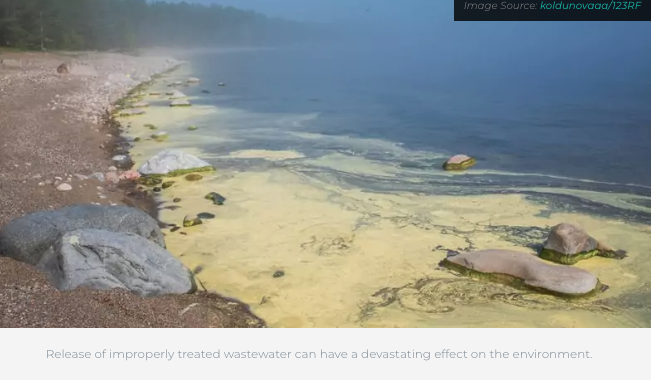 Toxic Algal Bloomkoldunovaaa/123RF
Release of improperly treated wastewater can have a devastating effect on the environment.
On-site treatment, however, protects the pristine environment that draws visitors while demonstrating a corporate commitment to sustainability that environmentally aware travelers appreciate.
Many coastal areas and islands lack access to drinking-quality water, but also have an unlimited supply of seawater nearby. On-site desalination solves the problem by treating the seawater so it can be used by guests. For example, Resorts World Bimini in the Bahamas now uses a Fluence NIROBOX™ plant to desalinate water for the resort, with enough left over to share with the surrounding community.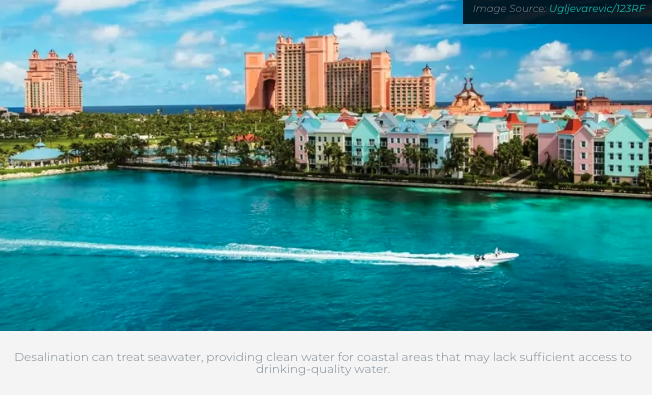 Resort in Coastal BahamasUgljevarevic/123RF
Desalination can treat seawater, providing clean water for coastal areas that may lack sufficient access to drinking-quality water.
Despite the opportunities, some concerns about on-site treatment persist.
Common Concerns With On-Site Water Treatment
Noise and Smell
The hospitality industry is primarily focused on the guest experience. Odor and noise can be major issues with traditional treatment. Fluence wastewater and desalination plants use proven treatment technology that preserves an establishment's ambiance: NIROBOX™ uses quiet reverse osmosis for desalination, and Aspiral™ wastewater treatment uses MABR technology with passive aeration for quiet and odor-free operation.
Appearance
A traditional treatment plant would be hard to hide at a hotel. But newer modular plants from Fluence are packaged in standard shipping containers for the smallest physical footprint in the business. For example, the Reserva Conchal resort in Costa Rica was threatened by an extended drought. It solved its problem by installing a three-unit NIROBOX™ desalination plant in the nearby jungle. The plant supplies enough water for all operations without spoiling the resort's natural beauty.
NIROBOX™ Desalination Plant Installed at ResortAt the Reserva Conchal resort in Costa Rica, a desalination plant was concealed in nearby woods.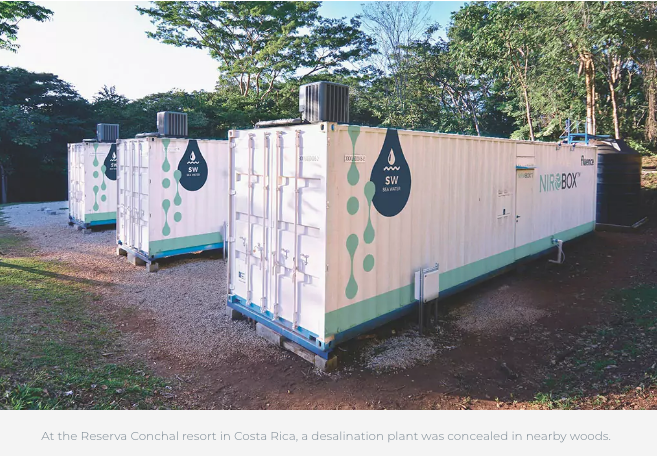 Safety
Water treated with Aspiral™ meets stringent regulatory standards for reuse, including California's Title 22 and China's Class 1A, offering hotels the opportunity to safely use a large percentage of their wastewater again for nonpotable applications like landscaping.
Construction Time
Traditional infrastructure requires lengthy construction that can disrupt the guest experience. Since Aspiral™ and NIROBOX™ are pre-engineered within containers, delivery and installation can take place within months.
Maintenance
Many traditional plants require a team of skilled operators to maintain the plant, checking up on it and fixing issues along the way. Fluence Smart Packaged solutions can be remotely monitored and operated by nonspecialized personnel.
Cost
By treating wastewater and reusing it on-site, hotels and resorts can save on the cost of wastewater disposal and purchasing water.
We understand that it can be stressful to take on the responsibility of investing in and managing a plant when it's not your area of expertise. That's why we offer Water Management Services, where Fluence finances, constructs, and operates the treatment plant so you can focus on what you do best. There's no up-front investment or maintenance costs, just pay for clean water.
Contact the experts at Fluence to learn which on-site treatment options are best for your hotel or resort.