Joining forces to achieve the impossible, ...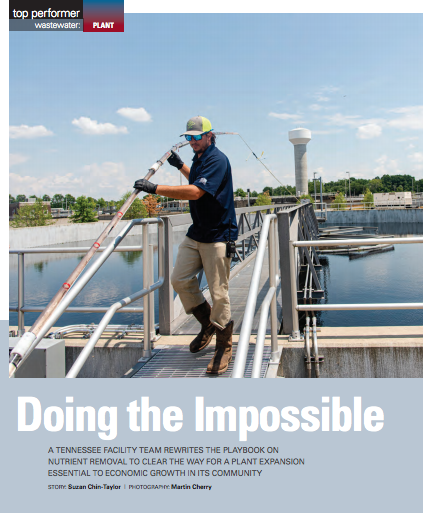 Joining forces to achieve the impossible , ... Worth reading.
See full article attached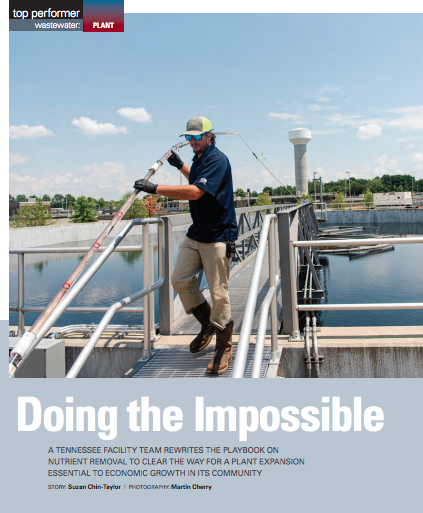 Doing the Impossible wastewater: PLANT top performer When facing what seemed insurmountable odds to meet aggressive new effluent nutrient limits, the Murfreesboro Water Resources Department team members banded together.
They drew upon internal resources, skills and innovation to complete a treatment plant expansion that was financially viable, met the permit requirement, and provided a framework for capacity expansion and long-term reliability. The Murfreesboro Water Resources Recovery Facility was built in 2000 and expanded by 50% in 2017 to a 24 mgd design capacity (average flow is 20 mgd).
The plant culminates decades of diligent effort by the city staff and consulting engineers to achieve dramatic reductions in effluent nitrogen and phosphorus. The plant has received four Peak Performance Gold Awards from the National Association of Clean Water Agencies.
Closer to home, it has earned two Excellence in Beneficial Reuse Water Awards and eight consecutive Operational Excellence Awards from the Clean Water Professionals of Kentucky and Tennessee. ''One of the key things we did was to include [in expansion decisions] every single staff member, even those who were very new and only on the job a short time." JOHN STRICKLAND Anthony Pollock, plant supervisor, samples the sludge blanket in a clarifier. Effluent feeds the West Fork Stones River, helping to provide a healthy ecosystem for the wildlife.
Murfreesboro (Tennessee) Water Resources Recovery Facility www.murfreesborotn.gov BUILT: 2000 (expanded and upgraded 2017) POPULATION SERVED: 160,000 TEAM MEMBERS: 30 FLOWS: 24 mgd design, 20 mgd average TREATMENT LEVEL: Ter
This article first appeared in the January 2021 issue of Treatment Plant Operator magazine , published by COLE Publishing Inc., www.tpomag.com. It is reprinted by permission.