Key Takeaways – World Water-Tech Innovation Summit 2020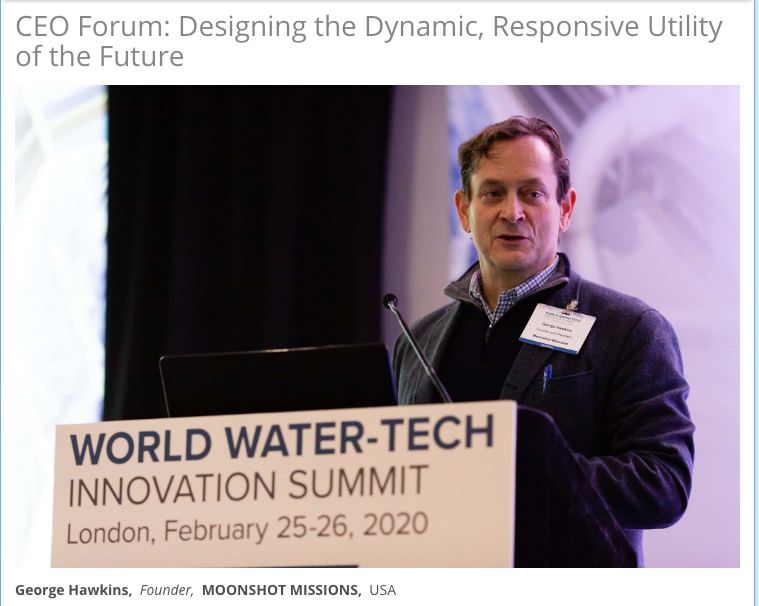 Summit Highlights
At the 9th annual World Water-Tech Innovation Summit in London, February 25-26, 260 global senior leaders from 36 countries came together to develop resilient water systems for a sustainable future.
We showcased new technologies and unlocked new potential partnerships to accelerate innovation across the water value chain.
Joining us at the summit were utilities, municipalities, technology companies, active investors, entrepreneurs, equipment providers, government, beverage brands, engineering firms and consultancies, academics and associations, including:
Flood-Tech Workshop
The pre-summit workshop in partnership with the UK Department for International Trade offered an intimate and timely forum for flood-tech specialists to look at new solutions and technologies to tackle the challenges of flooding.
Highlights included the "technology in action" case studies, and industry leaders' panel discussion, as well as the roundtable discussions at the end where delegates drilled down to debate and discuss four key areas of flooding.
Opening Keynote: Defusing the Weatherbomb: The Future of Flood Defence

James Bevan, CEO , UK ENVIRONMENT AGENCY, UK
The summit launched with Sir James Bevan's opening keynote and timely announcement in the face of the recent flooding disasters across the country.
ITN, Sky, Channel 4, BBC, The Telegraph, The Times as well as water-tech trade press, joined to hear his announcement.
His address called for stronger resilience and this set the scene for two days of intense discussion and fresh thinking at the summit.
The summit then continued to gather momentum, and enthusiasm for tackling the challenges facing the water sector through partnerships and innovation grew.
Here are our highlights from the summit:
CEO Forum: Designing the Dynamic, Responsive Utility of the Future
George Hawkins, Founder, MOONSHOT MISSIONS, USA
"Honoured to moderate this fascinating kick-off to the World Water-Tech Innovation Summit with distinguished CEOs from water utilities from England, Denmark, Portugal and Greece. Common themes: water utilities are adapting to wildly changing conditions – flooding, drought, new technology superimposed on old technology, customer demands, regulatory mandates, new contaminants and employees reaching retirement even as new skills are needed. Adaptation is internal on how to encourage creativity and innovation while capturing historical knowledge, and external as utilities become integral to the cities and watersheds in which they reside. CEOs also reminded the crowd to learn about them when offering new technologies – not a solution in search of a problem, but an understanding of the utility perspective and engagement on customised outcomes."
Converting Digital Integration into Real Value
"Converting digital innovation into real value requires involving all the stakeholders right from the beginning. It's a collaborative project. Implementing an innovation generates some risks for operators. It has to be recognized, accepted and rewarded otherwise change and value creation will be very slow. People need to be involved right from the start and motivated to change things."
Frédéric Renaut , Director of Digital Innovation , SAUR , FRANCE
"Co-creation is key to converting digital integration into real value – and focusing on how we can make customers' lives better, not just our company more efficient."
Nigel Watson , CIO , NORTHUMBRIAN WATER
Dynamic Watershed Management and Resilient Cities
"The scale may be different, but many water and climate resilience challenges are similar across cities.
We have many of the solutions already so it's vital that we join up, share learning and accelerate funding and delivery at scale, and in all types and sizes of cities,
This means we fundamentally need to change our urban spaces and their functions. But we must also think about what our cities will become in 10, 30, 50 years as they rapidly decarbonise and transition economically, socially and demographically.
Otherwise we risk delivering resilience to the city and citizens of today, not tomorrow and not securing a just transition to climate resilient cities and their regions."
Matt Ellis, Climate Resilience Officer , GREATER MANCHESTER COMBINED AUTHORITY , UK
Anusha Shah, Director – Resilient Cities, ARCADIS, UK
"Use the climate emergency as a catalyst for building a fair and equitable world.
Place equal, if not more focus on #limate adaptation along with #mitigation. UK has this massive opportunity to show leadership this year. As the saying goes, if you host it, you own it!
Tackling the climate crisis is not just a professional matter but a very personal one too. It's about your very own future generations. If somehow we can stir the conscience of the world leaders, I truly believe more than half the job will be done and we will have a successful COP."
Analytics and the Cloud – Digital Integration to Optimise Water
"Harnessing the value of 'digital' is not only governed by the analysis of asset data a utility is building or has in its possession but also the coupling of observed environmental changes and trends across the physical landscape. This provides a foundation of analytics that informs a holistic and contextual picture that enhances both resilience and the workforce at multiple tiers of a utility."
David Johnson , Business Development Manager, REZATEC , UK
"Looking outside the water perspective, digital transformation is happening across all industries. Bringing people and processes together to create value."
Miriam Berhane Russom , Senior Program Manager – Azure , MICROSOFT ,USA
Across the water sector, "we need common access to common data sources and reference data. We need to take a united approach. We need to share more."
Matt Edwards , Head of Enterprise Data – Chief Data Officer, ANGLIAN WATER , UK
"Digital is a way of squeezing value out of water. Stewards of biodiversity and responding to climate change and providing resiliency services for cities and removing carbon footprint. Digital will help us achieve this faster, more effective and fraction of the cost. Digital can provide the means to achieve this in a reasonable way."
Luis Montestruque , Vice President of Digital Solutions, XYLEM , USA
DIT Regional Focus: Understanding the South & Central American Water Sector
"I presented the water challenges of LAC, a region characterised by high urbanisation and vulnerable to climate change, stressing that the region is not on track to achieve SDG6 unless a substantial shift is made by increasing public and private financing along with an enabling environment. In this regard, CAF launched the non-reimbursable Water Project Preparation Facility (WPPF) to support countries on feasibility studies and final design to accelerate investment implementation. Jorge Meza from CONAGUA highlighted the geographic contrast between high water availability and less development, and the opposite as well, that derives to an ambitious planning considering macro projects. Francisco Dumler from SEDAPAL showed a similar diagnosis in Peru on water availability and economic growth, the complexity to satisfy drinking water for Lima and strategic actions to accelerate investment, to extend infrastructure lifespan by asset management and to attract PPP."
Franz Rojas , Coordinator of the Water Agenda, DEVELOPMENT BANK OF LATIN AMERICA , LATAC
Breaking New Ground in the War Against Leakage
"It was a genuine experience to be a part of this panel, to share ideas with such great experts. We all agreed that knowing your customer's behaviour, data collection, the quality of the data, automation of data analysis, and well-chosen strategies are needed to reach good results anywhere in the world. I enjoyed that the audience of the panel got involved and that it brought about an open discussion of the topic. We will continue towards more sophisticated, more integrated, more automated systems to reach the desired Economic Leakage Level."
Tamás Bencze , International Business Development Director , BUDAPEST WATERWORKS, HUNGARY
Roundtable Key Takeaways
Roundtable Host: Miguel Angel Sanz , Director of Strategic Development, SUEZ , FRANCE
Wastewater Reuse: What Are the Challenges Beyond Technology?
"The lack of regulation in the majority of countries is the first barrier for the wastewater reuse developing market.
In developing countries several years of promotion are needed before the implementation of the first reuse projects, specifically if the water scarcity is not the main driver.
Another important point is who pays for reused water. if the industry is involved, there's no problem. Agriculture is very difficult because they are used to have a very cheap water."
Building Flood Resilience through Grey/Green Infrastructure
"There is a paradigm shift, from flood control towards Integrated Flood Risk Management and Natural Flood Management, where the options to manage surface water at source are more and more considered. In the UK, Nigeria, Mexico and Peru, the actors experiencing and managing floods are looking more towards the role of the ecosystems and hybrid green-grey infrastructure strategies to manage floods.
Investors as well as utilities and private sector companies dependent on water and affected by floods are willing to invest in solutions that are truly sustainable, yet a major challenege are the transaction costs involved in developing a pipeline of projects and/or a governance mechanism that enable the investment from multiple parties on the watershed to manage water excesses, quality and stress at system level."
Roundtable Host: Monica Altamirano , Program Manager Finance for Adaptative Planning , DELTARES , NETHERLANDS
Resource Recovery: Understanding the Potential of a Growing Industry
"Resource recovery has to make economic sense.
Low cooperation between industries – the value chain is an issue (for example what do you do with recovered phosphorous?)
There is an energy intensive trade off."
Roundtable Host: Lydia Whyatt , Managing Director for Water Investments, RESONANCE ASSET MANAGEMENT , UK
The Solution is out There: Implementation Is The Challenge
"The difficulty is knowing how and who to approach in a utility often changes.
Solutions seem to be in search of problems – does the provider understand the customer need?
We need a sense of full cost of existing practices to compare to new technology and approaches.
How can we organise implementationin organisations?"
Roundtable Host: George Hawkins, Founder & President, MOONSHOT MISSIONS , USA
Zero Emissions by 2030: How Can We Make It Happen?
"There is a key role for innovation, we need to look toother sectors for cross over opportunities.
Government policy framework is key.
We need a hydrogen economy opportunity to drive this."
Roundtable Host: Gordon Reid , General Manager – Zero Emissions, SCOTTISH WATER , UK
An Investment Checklist: What do Entrepreneurs and Investors Need to Consider?
"VC's need to share case studies of some investment journeys.
Do your homework before approaching investment.
Keep in mind the nature of VC – competitors are sometimes collaborators, i.e. they will avoid hurting each other (e.g. when it comes to valuation)."
Roundtable Host: Helge Daebel , Investment Director, EMERALD TECHNOLOGY VENTURES , SWITZERLAND
Roundtable Host: David Kay , Professor of Environment and Health, ABERYSTWYTH UNIVERSITY , UK
Digital Solutions to Monitoring Water Quality
"Recent UK results suggest that within day variability in microbial compliance parameters at beaches covers several log10 orders ever day in the bathing season. This calls into question the credibility and hence utility of using, at best, weekly samples to define compliance due to the imprecision in defining the day's water quality.
The participants explored this concept and opinions ranged from: (i) it may be too radical an approach to convince regulators to abandon regulatory sampling despite the imprecision problems; (ii) some dismay was expressed that it may be difficult reliably to define compliance and health risk from such a well-established, and EU and WHO inspired, sampling regime."
Digital Twins: The Transformation of Water Infrastructure Management
"Digital solutions are rapidly reaching maturity in the water industry. In a scale of 0 to 5, which 0 meaning no understanding of digital twins and 5 meaning frequent use of digital twins, my table participants registered a score of 4.3. In spite of this, there was much discussion about the definition and value of digital twins. This discussion quickly arrived to a key point: the value of digital twins can be greatly enhanced if issues of interoperability and transparency are addressed."
Roundtable Host: Luis Montestruque , Vice President of Digital Solutions, XYLEM , USA
Roundtable Host: Mark Kaney , Director – Asset Management, BLACK & VEATCH , UK
From Boardroom to Control Room: Implementing Effective Asset Management in Tomorrow's Water Utility
"The key to good technology is good requirements! If you get your requirements wrong you usually end up with the wrong solutions.
It can be really hard to set the 'right targets'. We often drive the wrong behaviours by setting the wrong success criteria or goals. This can lead to a lack of line of sight to the business aims and also differing views of what success looks like within the different parts of the business. Usually what gets measured, gets done!
Our biggest asset is people! We are neglecting our most valuable asset. We are losing resource from our industry and devaluing skills by continuing to drive a race to the bottom on prices for the supply community and clients ability to pay competitive salaries for less available or emerging skills and expertise."
Water-Tech Innovators
"Water utilities are embracing new and digital technology, it's just a matter of aligning people from all levels within the organisation.
There are many initiatives to convert digital innovation into real value are already in place. Innovation bootcamps at Águas do Porto are a perfect example of that.
Finally, digital solutions like SwiftComply are part of the answer to a more resilient future that the water sector is looking for."
Lily Van Hende , Country Manager, SWIFTCOMPLY
"Cascade Water Products is delivering something new which is a culture change and that is using grey water to flush toilets and it is very important to be getting the message out there that grey water reuse is the future.
The summit is an excellent experience we have really enjoyed being here and have met so many interesting people and listening to the talks as well, has been very educational so I thoroughly recommend coming here.
We have got to look after our precious water resource. We also have to look at the energy involved in processing the water, whether it be for drinking water or for wastewater and we have got to look after the customer, and getting together like this helps people get ideas and from ideas, innovation happens."
Carolyn Hogg, Founder, CASCADE WATER PRODUCTS, UK
Georgia Freeman, Technology Showcase Manager, WORLD WATER-TECH INNOVATION SUMMIT
To learn more about getting involved and to discuss the application process get in touch with Georgia Freeman.
"This year's summit had 10 stand out start-ups, each with their own individual flare and innovation across the global water sector. From Israel, Poland, USA, UK and Ireland bringing exciting new technology such as domestic micro gray water reuse, AI leak detection services and remote cyber defence channels. The summit has certainly shown us a really progressive growth for start-ups in the water technology sector.
Each start-up who participated this year stood out, however FIDO, both on stage and off, gained a huge amount of traction with their leak detection technology, using acoustic logger audio file offering a efficient probability of a leak analysis. Another great example of new hard-hitting technology would be 8Power – a self-powered sensors for remote condition monitoring. SME's and start-ups are at the forefront of fundamental advancements in tech and solutions."
Articles by Delegates
"We're neither in Kansas nor a TV drama – we all need to wake up and expedite the pace of change needed to correct our biggest ever mistake; allowing the world to heat up almost beyond repair."
Shaunna Berendsen , Head of Innovation Engagement, ANGLIAN WATER , UK
"The theme of "resilience" was apparent throughout the Summit, linking panel discussions between utility CEOs, consulting engineers, investors and start-ups.
Impacts of climate change were clearly affecting organisations, cities and countries in different ways."
Tom Freyberg , Editor, ATLANTEAN MEDIA , UK
"By applying the latest machine learning techniques to the growing FIDO library, the algorithm is very clever while allowing the actual use to be as simple and as rugged as possible, and that's the key. That's why I think we're getting a lot of traction because we're not telling people or asking people to change their current work process, we're enhancing what they already do." Victoria Edwards , CEO and Co-Founder , FIDO, UK
By Tom Freyberg , Editor, ATLANTEAN MEDIA , UK
Photo Gallery
Relive the summit experience and see all the highlights.