Land, Air, Water Aotearoa (LAWA) - updated water quality data released for World Rivers Day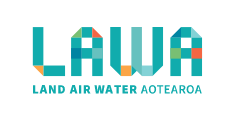 This World Rivers Day, the Land, Air, Water Aotearoa (LAWA) website has released updated water quality information for over 1,400 river sites and 150 lake sites in New Zealand. As well as state and trend information at these sites, trends have been aggregated at a national level for rivers to provide an overview of how New Zealand's waterways are tracking.
The data are freely available on the LAWA website.
Land, Air, Water Aotearoa (LAWA) has been established by like-minded organisations with a view to helping local communities find the balance between using natural resources and maintaining their quality and availability. LAWA connects us with the environment by sharing environmental data and information.
Initially a collaboration between New Zealand's 16 regional councils and unitary authorities, LAWA is now a partnership between the councils, Cawthron Institute, and the Ministry for the Environment.