Marine tech start-ups sailing to cleaner waters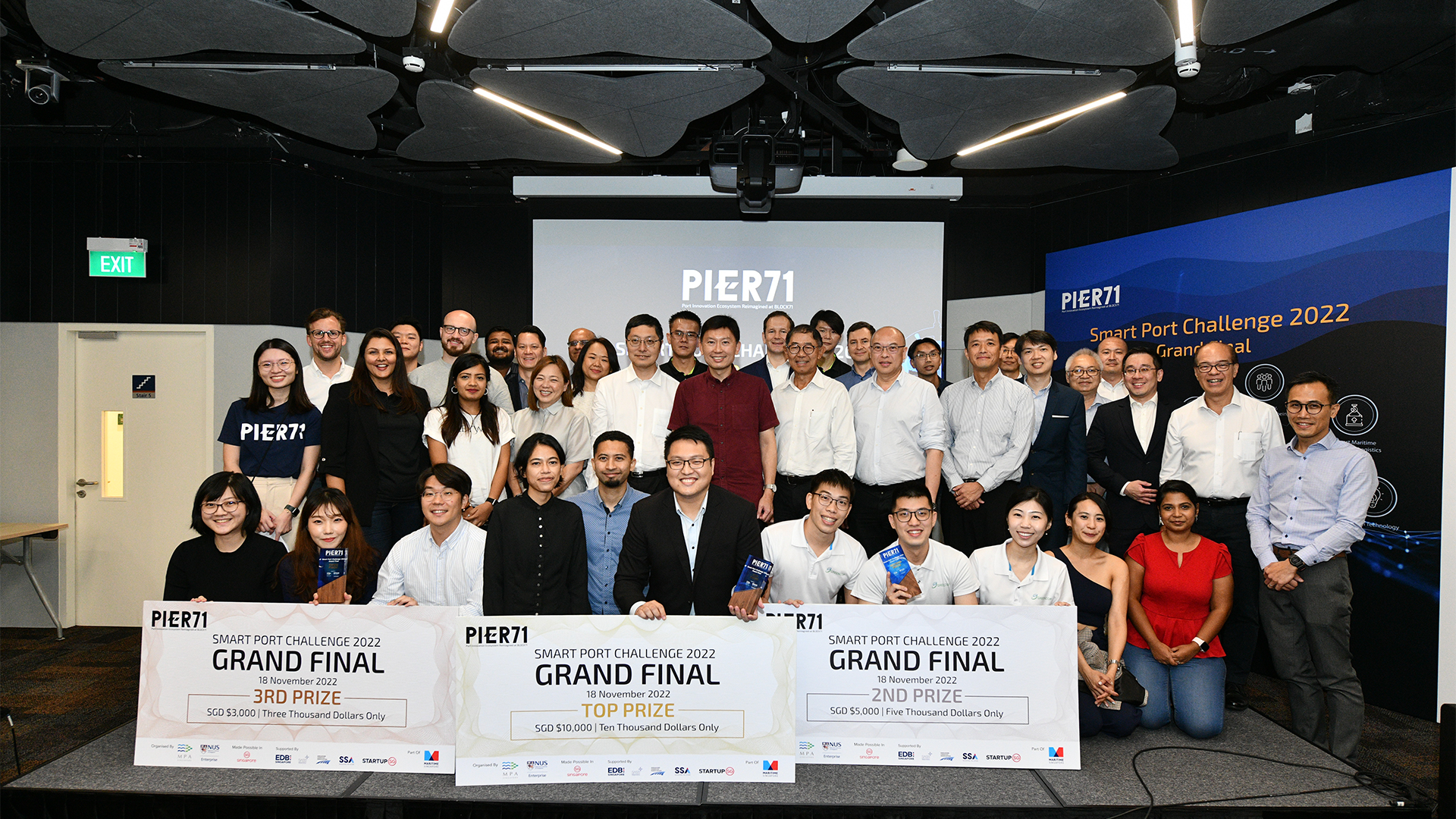 The Smart Port Challenge (SPC) 2022, an innovation competition that aims to identify the best ideas and solutions from international tech start-ups to address challenges put forth by Singapore-based maritime corporates, came to a close with the Grand Finals on 18 Nov 2022. SPC is the flagship programme of PIER71, an initiative launched in 2018 by NUS Enterprise and the Maritime Port Authority of Singapore (MPA) to establish Singapore as a vibrant maritime ecosystem and spearhead world-class innovation.
The Grand Finals were the culmination of a year of SPC activities. A maritime leadership roundtable and innovation workshop was first held to understand key challenges faced by the maritime corporates, with 15 innovation opportunities identified for tech start-ups to work on. The start-ups were also offered world-class entrepreneurship education opportunities, including market validation and customer discovery programmes tailored for the maritime industry. Following pitching and short-listing sessions, the judges revealed the winning start-up teams, who are developing innovative technologies to support the maritime sector.
"Singapore is a choice location for maritime innovation and development. Not only are we strong in research and development, but we are also home to the world's busiest transhipment port," said Guest-of-Honour Mr Chee Hong Tat, Senior Minister of State for Finance and Transport.
"We also have a leading International Maritime Centre, home to over 150 of the world's largest international shipping groups, and more than 5,000 maritime organisations, spanning functions such as shipping, maritime law, maritime finance, and maritime technology. These provide an excellent environment for start-ups to work with maritime companies, to tackle practical problem statements, and pilot and test-bed proposed solutions using the Port of Singapore as a Living Lab," he added.
Partnering for success
To further support marine tech innovation, MPA and the Singapore Shipping Association (SSA) also signed a partnership agreement during the SPC 2022 Grand Finals. This agreement will allow future PIER71 start-ups to engage with SSA's member companies, so that the start-ups can validate their solutions, gain test-bedding support and leverage on networking opportunities with the maritime industry.
Such engagement is critical for start-ups to gain traction, scale up operations and bring their solutions to the market. This year's cohort of SPC start-up teams have already benefitted from gaining access to the SPC ecosystem. Through participating in SPC 2022, start-up teams received 14 Letters of Intent, enabling them to embark upon pilot projects with industry. This MPA-SSA partnership agreement will provide PIER71 start-ups access to a wider network of maritime industry partners.