MIT Water Summit 2020 - Panel - Health and Water, Sanitation, and Hygiene (WASH)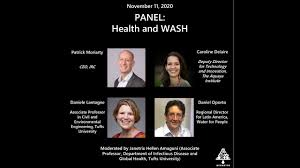 This panel convened on Wednesday, November 11, 2020 during the first day of the MIT Water Summit. According to UNICEF, 663 million people are without access to clean drinking water, and 2.4 billion people lack access to improved sanitation. Providing sustainable management of water, sanitation, and hygiene has important ramifications for improving health, equity, access to education, and more.
For many with adequate sanitation, the COVID-19 pandemic has prompted a greater awareness of access to adequate sanitation. But for many others who lack access, the pandemic only exacerbates existing health threats that they may face.
This panel will investigate the role of WASH systems in community health, with an emphasis on identifying the historic obstacles to equitable access and solutions for the future.
Moderated by Janetrix Hellen Amuguni, Associate Professor, Tufts University Panelists: -Patrick Moriarty, CEO, IRC -Caroline Delaire, Deputy Director for Technology and Innovation, The Aquaya Institute -Daniel Oporto, Regional Director for Latin America, Water for People -Daniele Lantagne, Associate Professor in Civil and Environmental Engineering, Tufts University