New anti-salt barrier needed to save crops in Italian Po-delta • Water News Europe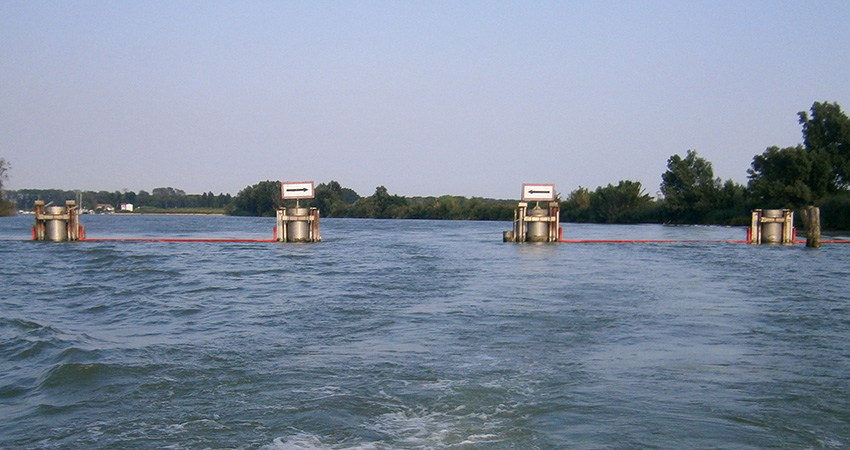 To stop a salt wedge from rising along the dry river Po branches an innovative new anti-salt barrier has been proposed at the mouth of the Po di Pila, the main branch of the Po Delta. The mobile barrier separates fresh water from salt water making use of the fact that salt water is heavier than fresh water. Director Giancarlo Mantovani of the Po Delta Land Reclamation Consortium (Consorzio di Bonifica Delta del Po), says these anti-salt barriers should always be implemented during droughts.
In the eastern course of the river as it reaches the Po delta flow rates in June were recorded at eight-five per cent below average. The low level of the river is leading to increased salt seawater infiltration into low-lying adjacent agricultural areas. "Until the 1980s, the phenomenon of the salt wedge rising was limited to two to three kilometres from the mouth of the Adriatic Sea and the flow rates statistically never fell below 600 mc/s. At this moment the salt wedge is entering the river delta about 30 kilometers. Due to the lack of rainfall and the lack of snow in the mountains very low flow rates are measured these days", stated Mantovani.
Existing anti-saltbarrier breached
An exisiting anti-salt barrier, constructed in 1988, has been regularly breached since 2003. Now the Po Delta Land Reclamation Consortium has carried out preliminary studies for a new system that would physically separate the freshwater from the saltwater with an upstream backflow of about 70 centimetres.