New Mexico Finance Authority seeks $41.6M for water projects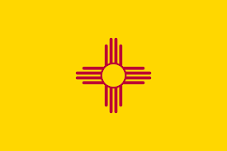 The New Mexico Finance Authority is asking lawmakers to fund $41.6 million in public water system upgrades — including a $1.5 million request to repair a conduit to the Nichols Dam, which helps bring water to the city of Santa Fe.
D'Antonio and New Mexico Finance Authority Water Resources Director Michael Vonderheide testified during a joint House and Senate panel hearing Dec 2, asking lawmakers to approve funding for the projects, many of which involve water storage and conservation in a state where reserves are crucial for keeping cities running and rural communities alive.
State officials say money is needed to repair the nearly 100-year-old Nichols Dam after D'Antonio's office previously issued a notice that it was in poor condition.
Without a fix, it's at risk of leaking or erosion, said Rick Carpenter, the city's water resources and conservation director. The Nichols and McClure dams supply up to 50 percent of Santa Fe's annual water supply.
"It's not in imminent danger now … but eventually there could be structural failure of some sort," Carpenter said.
Earlier this year, D'Antonio told a legislative committee that heavy spring runoff after a wet winter had increased the risk of overflow, leaks or ruptures for many state-regulated dams.
Apart from the dam, the state Finance Authority requests also included $2 million to install "advanced metering" technology in Albuquerque, an ask that incensed state Sen. Jacob Candelaria, D-Albuquerque, who may push back against that and other projects as vice chair of the Finance Authority Oversight Committee.
Candelaria said the Legislature should be spending money to ensure equal access to basic necessities, such as running water and electricity. But the Pajarito Mesa community outside Albuquerque, in his district, still lacks both.
"All of these projects are going to get a significant review from the Legislature through the NMFA committee and the Senate process, because in my book the days of us just spending money because the project sounds good, as opposed to solving the serious socioeconomic and, let's be honest, racial inequities — I'm done doing that."
Candelaria said it was "reprehensible" that D'Antonio and Vonderheide asked lawmakers to fund advanced water metering technology for Albuquerque before trying to supply running water for Pajarito Mesa residents.
D'Antonio and Vonderheide also asked lawmakers to fund a $4.54 million water pipeline project in Curry County, plus wellhead and water system improvements in Portales, El Creston, La Cueva and elsewhere.
The list of 36 requested projects across the state includes a $1 million water pipeline extension project near Eldorado and $3 million to help Gallup finish a loop of 280 miles of pipeline in a massive project to supply more than 37,700 acre-feet of fresh water from the San Juan Basin to the Navajo Nation.
The project is part of a broader planned pipeline that comes after an $860 million settlement between the Navajo Nation and the federal government under former President Barack Obama's administration.
A 2009 federal law authorized the $1.13 billion project, which will be completed in 2024 and supply water to 250,000 people in 43 chapters on the reservation, Gallup, and the southwest portion of the Jicarilla Apache Nation.
Groundwater levels in the city of Gallup have dropped about 200 feet over the past 10 years, according to the U.S. Bureau of Reclamation, which also says that 40 percent of Navajo Nation households have to haul water for daily use.
"It is the largest drinking water infrastructure project in the history of the United States," said Dennis Romero, water and sanitation director for Gallup.