New Report Offers Solutions to Water and Climate Challenges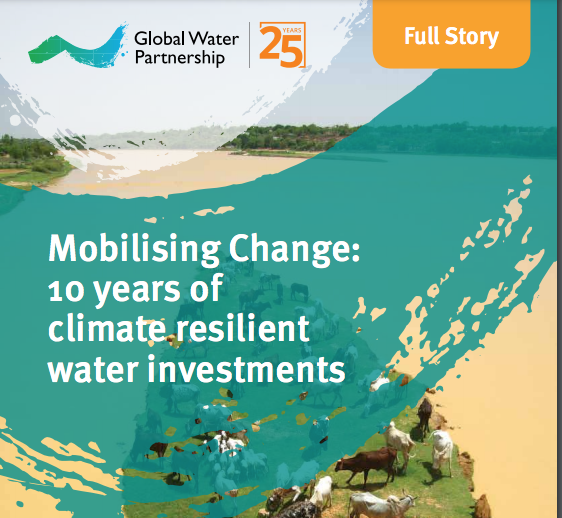 Last year the global pandemic exposed how current governance systems are inadequately prepared to address systemic challenges that threaten humanity. Better preparedness can make communities more resilient to large scale threats. On 2 June, GWP launched a report, "Mobilising Change: 10 years of climate resilient water investments", which is a contribution to implementing transformative development to solve climate change challenges to water security.
The report, Mobilising Change: 10 years of climate resilient water investments (see attached) – particularly through its 'stories of change' from around the world – contains the lessons learned in the nearly 10-year GWP water and climate programme. "We believe these lessons are transferable to other sectors of the development community," said GWP Executive Secretary Darío Soto-Abril .
"The scope of GWP's work is ambitious, involving high level assessment, policy, and planning at regional and national levels, supporting policy-makers to integrate water management as an essential element in their development plans," he added. "That high-level approach has had on-the-ground impact."
At the launch event, which gathered over 120 participants, Soto-Abril also said that "2021 marks 25 years of GWP mobilising partners for a water secure world – 'mobilising change' requires long-term commitment; there are no quick fixes to water management." He noted that the report outlines GWP's long-running experience of how improved water governance has helped governments and communities become more resilient to the effects of climate change. The report explains how problems were diagnosed, a response was designed, and how interventions were undertaken.
Reaffirming the water-climate connection
Alex Simalabwi , GWP's Global Head - Climate Resilience, who has led GWP's water and climate programme since its inception, said, "The lessons of this programme reaffirm the relevance of connecting climate and development through water. The priorities driving this work are positioning water-informed insights in national adaptation planning, facilitating access to climate finance for resilience-building water projects, and supporting integrated planning for water infrastructure."
"GWP's track record in supporting water resource and climate resilience investments worth €1.5 billion, representing a leverage ratio of 1:33 for every dollar invested in GWP's water and climate programme over the past 10 years, is a testament to the transformative power of partnerships to create real impact," added Simalabwi.
"This leverage ratio is comparable to major development banks, and uses in-country capacity, with local ownership and a leaner and flexible delivery model. As the world rebuilds after Covid-19, GWP offers a proven model for design and implementation of transformative climate resilient development."