New technology to transform UAE food and water security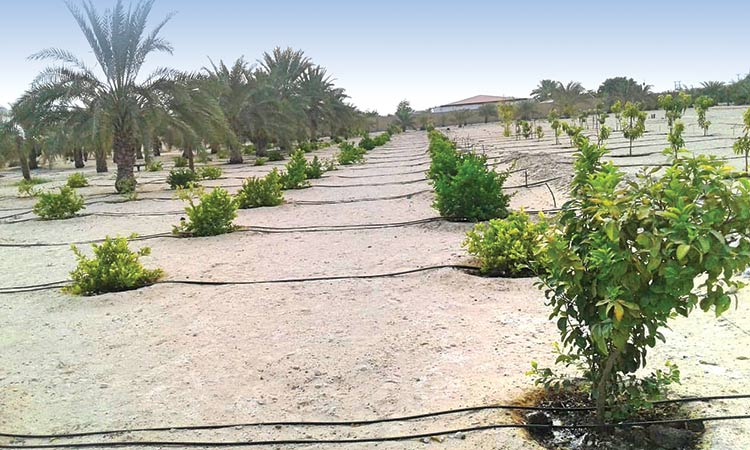 Addressing a recent meeting of the national cabinet, His Highness Sheikh Mohammed Bin Rashid Al Maktoum, Vice President, Prime Minister and Ruler of Dubai, gave a clarion call to transform the water and food security of the UAE.

Sheikh Mohammed underscored the disruption in supply chains during COVID-19 pandemic, and instructed the Minister of State for Food Security to explore technologies and partnerships, to implement practical solutions for a resilient and self-sufficient UAE of the future.

The challenges the UAE faces in making this transformation, are considerable. The nations currently imports 80% of its food. With an average of 12 days of rain annually, and less than 1% of the UAE's land considered arable, conventional options would prove inadequate. Fortunately, a revolutionary new technology is being introduced in the region, which could turn Sheikh Mohammed's vision into reality, sooner than most would expect. And it uses a resource that the Middle East has in abundance – ordinary desert sand.

Dake Rechsand, a collaboration between South Africa's Dake Group and the Rechsand Technology Group from Beijing, has recently launched their 'magic sand' product range in the Middle East. Recognised as a gamechanging breakthrough by the UN, the products have been developed on the basis of a technology that changes the properties of ordinary desert sand, allowing air to pass through it, while retaining water.

Developed by Qin Shengy, Dean of Production at the Rechsand Research Institute, these products have the potential to green the most arid deserts and enable the creation of reservoirs which can store water for up to seven years, without the need for energy inputs. This proven technology has already achieved astonishing results, including aiding the growth of 1,500 acres of organic rice in the Ulam Buh Desert - one of the world's seven driest regions, with temperatures of up to 57 degrees Celsius.

Identifying an opportunity to transform the food and water security of the Mena region, Dake Rechsand has shifted its headquarters to Dubai, in a bid to begin the global promotion of the products.

Chandra Dake, Executive Chairman and Group CEO of the Dake Group,said, "The Mena region is currently using more than 75 % of its renewable water resources, and 85 % of this is used for irrigation." Chandra added, "between 2008 and 2018, the UAE's water consumption rose by almost 26%. These numbers are simply not sustainable. Cloud-seeding has produced impressive results, but it needs to be complemented by a capacity to sustainably harvest this additional precipitation. Our range of products can allow the UAE to grow abundant food on desert land, as well as to store rainwater, creating a feasible new water source for the region".

Dake Rechsand's breathable sand technology consists of regular sand particles, coated using a special technology. This 'magic sand' results in surfaces that retain water, while allowing air to circulate freely, unlike other hydrophobic materials. A thin layer of this treated sand reduces water usage for agriculture, forestation or gardening by 80% - leading to billions of gallons of water savings annually. Air permeability, to the roots of the plants, improves the quantity and quality of yield without the need for chemical fertilizers, and also eliminates the need for pesticides. The technology enables even traditionally high water consumption crops, such as rice and several varieties of fruit and nut trees, to be grown in the desert, easily and profitably. Dake Rechsand's IDER range of products, including tiles and kerbstones, has been developed to allow both air and water to permeate, resulting in a revolutionary innovation for rainwater harvesting. "Rain is the purest source of fresh water" said Chandra, "yet most rainfall on the planet is wasted and often results in flooding and road clogging. Left stagnant too long, this precious life giving resource can easily become unusable".

"Reservoirs built using the Rechsand IDER Honey Comb Harvesting technology can preserve water in its pristine state for up to seven years without developing algae, without the need for chemicals or electricity", he continued.

"Pavements and Kerbstones made of magic sand can absorb 100% of the precious rainwater that falls on them. Underground reservoirs made of this material can transform Dubai's rainwater flooding issue into the city's strength. Such modular reservoirs can be built anywhere, eliminating the need for a city-wide centralized water collection system. As a bonus, the tiles are 100% skid-free, making roads, walkways and pathways much safer, even after heavy rains." Several successful pilot projects are also already underway in the UAE.

"As a large scale commercial deployment, Al Ajban farms in Abu Dhabi, where the salinity of the water is very high, are experiencing great results", Chandra shares. "Private homes in Dubai, which have adopted our product range, boast lush tropical greenery, even during peak summer months.