New weapon to cleanse water of PFAS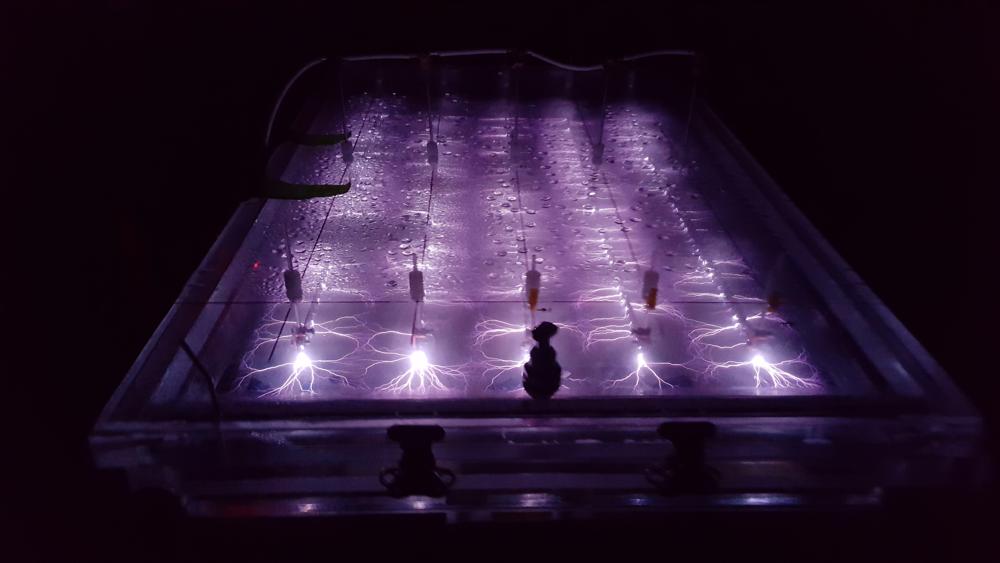 Air Force researchers develop new weapon to cleanse water
The Enhanced Contact Plasma Reactor — seen in this contributed photo — is designed to reduce the PFOS and PFOA molecule chain down into smaller compounds and elements. This plasma reactor was tested at Wright-Patterson Air Force Base as part of an Air Force Civil Engineer Center contract to demonstrate effectiveness Plasma reactor to treat water containing PFOS and PFOA.
WRIGHT-PATTERSON AIR FORCE BASE — As the state gears up for wider testing of public water systems for potentially harmful chemicals, civilian researchers at Wright-Patterson Air Force Base believe they may be closing in on a new weapon in the battle against toxic water.
Researchers at the base recently completed a two-week field demonstration of a plasma technology they say destroys potentially harmful chemicals perfluorooctane sulfonate and perfluorooctanoic acid — also known as "PFOS" and "PFOA" — in groundwater.
This is the only technology that actually destroys PFAS molecules that has been demonstrated at this scale, according to the researchers involved.
Ohio Gov. Mike DeWine's office announced that the Ohio Environmental Protection Agency (EPA) and the Ohio Department of Health (ODH) will test close to 1,500 public water systems — supplying water for about 90 percent of the state's population — for PFAS.
expressed concern about keeping the chemicals out of the area's groundwater.
"ODH and Ohio EPA look forward to working with public and private water systems and local health departments to protect the health of all Ohioans," ODH Director Amy Acton said.
The Wright-Patterson research was the first field demonstration of a device called the "Enhanced Contact Plasma Reactor," conducted under an Air Force contract with a New York University, Wright-Patterson said.
The Clarkson device uses electricity, water and argon gas to not just reduce potentially harmful chemicals but destroy them altogether, according to the Air Force. Wright-Patterson was the installation chosen for the field demonstration.
The argon gas concentrates PFAS at the gas-liquid interface, and plasma is generated at that interface, which then destroys PFAS, said Selma Mededovic, the project's principal investigator from Potsdam, N.Y.-based Clarkson University.
"It destroys it," Mededovic said in an interview with the Dayton Daily News on Monday.
The base research project involved parking a specially equipped trailer — with the plasma unit, pumps and storage tanks on board — near the area to be treated. With these mobile trailers, any PFAS-impacted source water can be targeted, Mededovic said.
"The field demonstration was quite successful. We were able to achieve regulatory limits imposed by the EPA," she said.
One wrinkle at the moment: The approach can treat up to just two gallons of water a minute. The objective is to treat greater volumes at greater speed, and armed with an Air Force SBIR award — a Small Business Innovation Research grant — Mededovic's company, DMAX Plasma, intends to attempt that.
Mededovic said she would like to treat closer to 100 gallons a minute.
Testing and refinement of the technology continue, and there is potential for the process to be deployed as a supplement or add-on to other technologies, such as ion exchange, Mededovic said.