Newsletter Archive of Trending Technology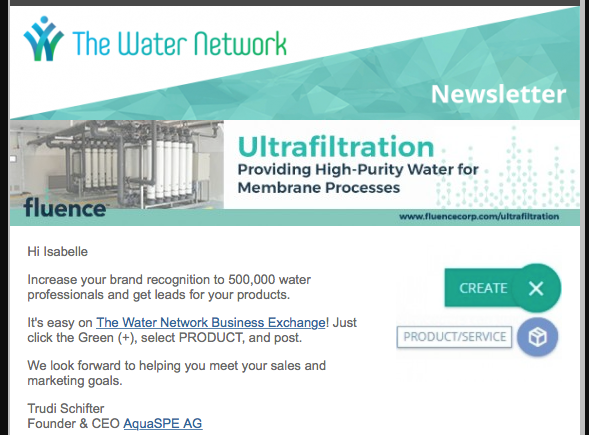 The Water Network is the 'one-stop-shop' for information and knowledge on Water. We publish a Monthly Trending Newsletter to ensure that water professionals are up-to-date with the latest technology advances and case studies in the sector.
The newsletter reaches circa 350,000 global water professionals.
If you want to feature company news, technology, blog or any other information in the newsletter, get in touch with us by sending an email.

All our newsletter publications are listed below:
03.04.2020 - Essential Water Technology and News - April 2020
06.03.2020 - Essential Water Technology and News - March 2020
07.02.2020 - Essential Water Technology and News - February 2020
02.01.2020 - Essential Water Technology and News - January 2020
06.12.2019 - Essential Water Technology and News - December 2019
07.11.2019 - Essential Water Technology and News - November 2019
03.10.2019. - TWN Newsletter 2019-10-03
05.09.2019. - TWN Newsletter 2019-09-05
01.08.2019. - TWN Newsletter 2019-08-01
04.07.2019. - TWN Newsletter 2019-06-04
06.06.2019. - TWN Newsletter 2019-06-06
02.05.2019. - TWN Newsletter 2019-05-02
04.04.2019. - TWN Newsletter 2019-04-04
07.03.2019. - TWN Newsletter 2019-03-07
07.02.2019. - TWN Newsletter 2019-02-07
03.01.2019. - TWN Newsletter 2019-01-03
06.12.2018. - TWN Newsletter 2018-12-06
08.11.2018. - TWN Newsletter 2018-11-08
08.10.2018. - TWN Newsletter 2018-10-08
10.09.2018. - TWN Newsletter 2018-09 -10
09.08.2018. - TWN Newsletter 2018-08-09
06.07.2018. - TWN Newsletter 2018-07-06
07.06.2018. - TWN Newsletter 2018-06-07
03.05.2018. - TWN Newsletter 2018-05-03
03.04.2018. - TWN Newsletter 2018-04-03
27.02.2018. - TWN Newsletter 2018-02-27
30.01.2018. - TWN Newsletter 2018-01-30
28.12.2017. - TWN Newsletter 2017-12-28
30.11.2017. - TWN Newsletter 2017-11-30
31.10.2017. - TWN Newsletter 2017-10-31
05.10.2017. - TWN Newsletter 2017-10-05
31.08.2017. - TWN Newsletter 2017-08-31
18.07.2017. - TWN Newsletter 2017-07-18
28.04.2017. - TWN Newsletter 2017-04-28
23.03.2017. - TWN Newsletter 2017-03-23
26.01.2017. - TWN Newsletter 2017-01-26
15.12.2016. - TWN Newsletter 2016-12-15
08.11.2016. - TWN Newsletter 2016-11-08
20.10.2016. - TWN Newsletter 2016-10-20
20.09.2016. - TWN Newsletter 2016-09-20
30.08.2016. - TWN Newsletter 2016-08-30
03.08.2016. - TWN Newsletter 2016-08-02
07.12.2016 - TWN Newsletter 2016-07-12
06.28.2016 - TWN Newsletter 2016-06-28
06.09.2016 - TWN Newsletter 2016-06-09
05.24.2016 - TWN Newsletter 2016-05-24
05.03.2016 - TWN Newsletter 2016-05-03
04.19.2016 - TWN Newsletter 2016-04-19
04.05.2016 - TWN Newsletter 2016-04-05
03.22.2016 - TWN Newsletter 2016-03-22
03.08.2016 - TWN Newsletter 2016-03-08
02.25.2016 - TWN Newsletter 2016-02-25
02.11.2016 - TWN Newsletter 2016-02-11
01.26.2016 - TWN Newsletter 2016-01-26
01.14.2016 - TWN Newsletter 2016-01-14
12.29.2015 - TWN Newsletter 2015-12-29
12.15.2016 - TWN Newsletter 2015-12-15
12.01.2015 - TWN Newsletter 2015-12-01
11.17.2015 - TWN Newsletter 2015-11-17
11.04.2015 - TWN Newsletter 2015-11-04
10.20.2015 - TWN Newsletter 2015-10
09.29.2015 - TWN Newsletter 2015-09
08.27.2015 - TWN Newsletter 2015-08
07.30.2015 - TWN Newsletter 2015-07
06.30.2015 - TWN Newsletter 2015-06
06.01.2015 - TWN Newsletter 2015-05
04.30.2015 - TWN Newsletter 2015-04
03.26.2015 - TWN Newsletter 2015-03
02.12.2015 - TWN Newsletter 2015-02
12.10.2014 - TWN Newsletter 2014-12