Novel two-stage potable water filter technology launched

Lufthansa Technik has collaborated with Aqua Free GmbH, a water hygiene specialist, to develop a system to improve the quality of potable water on board commercial aircraft. Based on medical technology, the jointly developed two-stage water filtration system, named PuriFLY, is intended to ensure a high standard of onboard water quality at a lower price point compared to many of today's filters. The first filters are already flying in large VIP and government aircraft, and are now being made available to commercial aircraft operators.
According to the partners, the PuriFly water filter removes 99.99999 % of all known germs and bacteria. The system is being designed so it can be easily retrofitted in most existing water filtration systems in almost all commercial airliners, with only a minor change certification required to be obtained through Lufthansa Technik, minimising the costs of complying with the German Drinking Water Ordinance.
Many of today's aircraft potable water filters use activated carbon to neutralise the chlorine in the water to enhance the taste. At the same time, the porosity of the activated carbon filters the water. These systems require regular filter changes and additional cleaning measures.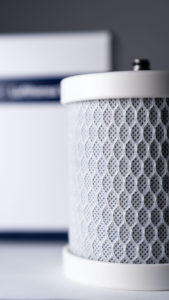 The PuriFLY design adds a second filtration stage that utilises an hollow fibre membrane with extremely small pore diameters, in addition to activated carbon. This extra filtration stage holds back all particles larger than 0.2 μm and removes water-bonded bacteria and other particles. This achieves a reliable bacteria retention of 99.99999 %, say the partners, which corresponds to the standard of medical sterile filters (7-log stages) – hygiene standards of sterile water filtration found in hospitals. As the chemical and mechanical filter stages are separated, PuriFly requires fewer filter changes and reduces the effort for additional cleaning, resulting in reduced cost for the operator.
The PuriFLY filters optimise the water flow rate, which can reduce onboard water requirements and waste. The filter cartridges are certified with an EASA Form 1 and come in the same size as the conventional active carbon filters used today.
"The puriFLY filters ensure the onboard water quality at lower cost and less waste," stated Torben Biehl, head of aircraft components at Lufthansa Technik's Original Equipment Innovation business unit. "Especially in these challenging times, they provide a valuable contribution to the demand for increased hygiene in our everyday life."