Online Turbidity Monitoring - Reducing Headaches and Expenses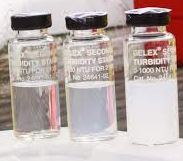 Turbidity continues to be one of the most critical measurements in drinking water treatment. While the measurement principle is simple and well understood, instrumentation has often required more maintenance and troubleshooting than desired. SWAN Analytical USA's David Shehee walks through how to reduce turbidity measurement concerns by using non-contact technology. David Shehee is a territory manager for SWAN Analytical USA and is based in North Carolina.
Prior to joining SWAN, he spent about 18 years managing the water quality and environmental compliance of three water treatment plants and four wastewater treatment plants for a large system in Kentucky (85 mgd capacity). He is a certified Class IV drinking and distribution operator in Kentucky and Class II wastewater and collections system operator in Kentucky. He holds a master's degree in analytical chemistry from Eastern Kentucky University.