Organic Cotton Uses 91% Less Water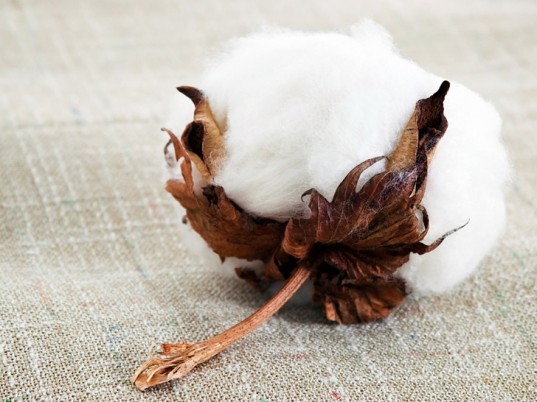 Textile Exchange Releases Results of an International Life Cycle Assessment that Demonstrates the Tangible Benefits of Organic Cotton Cultivation
Textile Exchange, an international nonprofit organization committed to a more sustainable textile industry, is releasing the results of an international Life Cycle Assessment that demonstrates the tangible benefits of organic cotton cultivation. The life cycle study tracked organic cotton fiber production and represents worldwide global production. The results are overwhelmingly supportive of the organic process, showing significant reduction in global warming potential, soil erosion, water use and energy demand.
Textile Exchange (TE) engaged PE International, a global market leader in sustainability strategic consultancy, to conduct the Life Cycle Assessment (LCA). The study is based on data from producer groups located in the top five countries of organic cotton cultivation; India, China, Turkey, Tanzania and the United States. These countries account for 97% of global organic cotton production. The LCA investigated the impact of organic cotton cultivation in the categories of climate change/global warming potential, soil erosion and soil acidification, water use and consumption and energy demand.
To put the findings of the study into perspective, the results were compared to a separate independent peer-reviewed study of conventional cotton.* The two studies were done independently and the comparison is of indicative value only. The most significant findings when comparing organic cotton to conventional are:
46% reduced global warming potential
70% less acidification potential
26% reduced eutrophication potential (soil erosion)
91% reduced blue water** consumption
62% reduced primary energy demand
Textile Exchange embarked on this study to meet the growing need for data that verifies the benefits of organic cotton.
"The release of the Organic Cotton LCA marks a turning point for the organic cotton sector as a whole," said La Rhea Pepper, Managing Director of Textile Exchange. "For 12 years, we have been promoting the benefits of organic cotton. This study allows us to show the quantitative data that supports what we already know - that organic cotton is much better for our environment than conventional cotton. This information is empowering for the people and organizations along the organic cotton supply chain, including farmers, cotton ginners, spinners, brands and retailers and all the way to the consumer level. Making a commitment to grow, manufacture, and use organic cotton in our textiles is also making a commitment to improve our water, soil and air."
The Organic Cotton LCA was funded by 14 Textile Exchange member organizations including C&A Foundation, EILEEN FISHER, Esquel, GOTS, H&M, ICEA, Inditex, Kering, MEC, Nike Inc., Otto Group, PrAna, Pratibha Syntex and Tchibo.
"We are constantly on the lookout for innovative materials and processes that can make our products more sustainable, said Erik Karlsson, Environmental Sustainability Coordinator for H&M. "This valuable analysis into organic cotton supports these efforts, and validates our focus on more sustainable materials."
TE works with over 200 textile industry members including large brands and retailers, manufacturers, farmers and small, start-up brands. TE member organizations share a common goal to improve the sustainability of the textile industry. While concrete data existed for conventional cotton, TE saw a growing demand for comparative data for organic cotton among its members as well as industry-wide.Textile Exchange has committed to sharing this data worldwide so that it can be used by everyone involved in the textile industry.
Source: Digital Journal