Our five key conclusions from COP27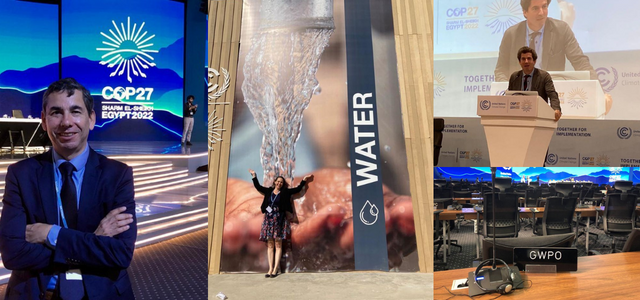 Our five key conclusions from COP27
As an official intergovernmental observer to the United Nations Framework Convention on Climate Change (UNFCCC) and a core partner of COP27's Water Pavilion, GWP actively prepared for this year's COP by promoting discussion of the vital role of good water management for increasing climate resilience throughout the year.
This understanding was reflected officially for the first time in the COP27 outcome document, which recognises that water systems have a critical role to play in delivering climate adaptation benefits and urges parties to further integrate water into their adaptation efforts. This is a huge and welcome achievement for water that was a long time coming.
This year's COP focused more heavily on adaptation and implementation. This is beneficial for water, particularly given that a review earlier this year by the Intergovernmental Panel on Climate Change found that over 80% of climate adaptation strategies were water related. Strong water leadership from Egypt ensured that water was one of the COP Presidency priorities, with a full day dedicated to the subject on 14 November – a historical first at COP. Another landmark moment saw the inclusion of a high-level roundtable on Water Security in the Heads of State Segment for the first time. This event aimed to encourage greater political traction for action on water security within the global climate agenda.
COP27 was also the first time a Heads of State Segment included a high-level side event on investing in water for climate resilience in Africa, thanks to Senegal's leadership and GWP Southern Africa's support. The event saw the inauguration of the International High-Level Panel on Water Investments for Africa, with Heads of State and global leaders from around the world uniting to call for urgent investment in Africa's water and sanitation sector. GWP Chair Pablo Bereciartua is a core member of the panel, which aims to mobilise USD 30 billion per year by 2030 in order to implement the Continental Africa Water Investment Programme.
Over the two weeks of COP27, GWP was involved in more than 30 sessions, curated two thematic days in the Water Pavilion and pursued a range of bilateral exchanges. These various events explored an array of important issues, from flood and drought awareness to inclusion, food security, to inspiring the next generation of water actors. As our focus now shifts to the UN 2023 Water Conference and COP28 in the United Arab Emirates, GWP will continue to put water action at the forefront of climate resilience to build a more just, inclusive, and resilient future for all. Here are five key highlights from COP27 that will help achieve this goal.