Race to Resilience: Placing water at the heart of climate adaptation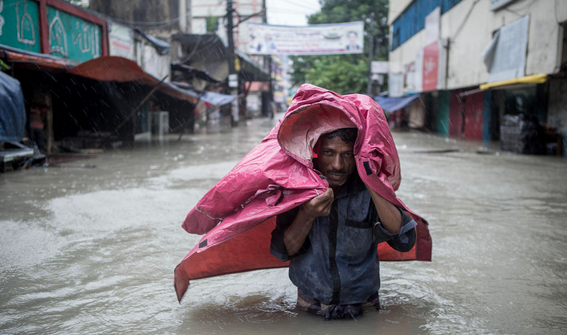 By Stuart Orr, WWF Global Freshwater Lead, and Henk Ovink, International Water Envoy of the Government of the Netherlands.
Most people will experience the impacts of climate change primarily through water — ©Cynthia van Elk / Water as Leverage
The global response to climate change — as slow and inadequate as it has been — has always been two-pronged. On the one hand, we have sought — and fought — to reduce emissions to mitigate its severity. We have also increasingly recognised that we will have to adapt to its inevitable impacts, building social, economic and environmental resilience in the face of extreme weather and rising seas.
When the impacts of climate change felt like a threat for the future, the emphasis was on mitigation. But even though we have failed to live up to our commitments and cut emissions fast enough to rein in climate change, global mitigation efforts have still been considerably greater than those focussed on adaptation. Indeed, for years, adaptation was largely absent from the global conversation, despite the fact that climate change exacerbates the impact and deepens the linkages between worsening global crises — water, food, poverty, inequality, migration, conflict and nature loss.
Now, as climate impacts are becoming more destructive — and more visible — across the world, hammering communities and economies with extreme floods, droughts, wildfires and storms, there is an urgent imperative to radically scale up investments in resilience to adapt to this deepening climate crisis.
That is the message of the Climate Adaptation Summit, hosted by the Netherlands and held online on 25–26 January. It's goal is to "accelerate, innovate and scale up the world's efforts in adapting our societies and economies to the inevitable effects of climate change over the coming decade".
Critical to accelerating the global adaptation effort must be a focus on water. For most people, the impacts of climate change will be primarily felt through water: extreme floods, more intense rainfall, including heavier monsoons; drought; diminished snowpack; and degraded water quality. Ninety percent of the impact of natural disasters is water-related, according to the World Meteorological Organization.
By 2050, the number of people at risk of floods will increase from 1.2 billion at present to 1.6 billion. By the same date, the number of people who lack sufficient water for at least one month per year will rise to more than 5 billion, from 3.6 billion today, UNESCO says. With 80 per cent of the costs of climate impacts related to water, it's time for countries to significantly increase investment in minimising these water-related risks, which will help to build more resilient societies, economies and ecosystems.
Cities on Asia's great deltas are particularly vulnerable to climate change © Jashim Salam / WWF-UK
In many parts of the world, we have built infrastructure to manage water that is woefully inadequate in the context of the UN Sustainable Development Goals (SDGs), becoming disastrously vulnerable as the climate changes. We have overlooked the fact that healthy rivers, lakes and wetlands are critical to resilience. Rivers have been turned into concrete channels for water, with no natural flexibility to absorb the more intense rainfall caused by a warmer climate. Similarly, impermeable cities are vulnerable to flash floods that overwhelm sewage and drainage systems.
Over-extraction, often for agriculture or industry, has depleted and degraded watersheds, creating scarcity for people and nature. River deltas are sinking and shrinking, due to the sediment that sustains them being trapped by ill-conceived hydropower projects or extracted by unsustainable sand mining, leaving them unable to cope with changing patterns of precipitation and stay above rising seas.
Around the world — but especially in fast-growing developing economies — there is enormous need for increased investment in water infrastructure. However, too often the design of that infrastructure is based on historical norms that do not meet today's challenges, let alone those of the future. An enormous opportunity exists for scaling up investment in our freshwater ecosystems and water infrastructure, using nature-based solutions that aim to work with the grain of natural systems.
The Climate Adaptation Summit is a showcase for some of these innovative approaches, offering a platform for partners to join forces and for investors to deploy their capital into sustainable solutions, such as the Resilient Asian Deltas initiative.
WWF is coordinating this ambitious undertaking in partnership with the Dutch government, Delta Coalition, Delta Alliance and private sector participants. It aims to help stop the sinking and shrinking of Asia's great deltas and safeguard the lives and livelihoods of millions of people by investing in nature-based solutions throughout their river basins. This approach will build resilience to the impact of extreme weather events and stabilise the deltas, helping to keep them — and their societies, economies and ecosystems — above the rising seas.