Recent Advances in Water Engineering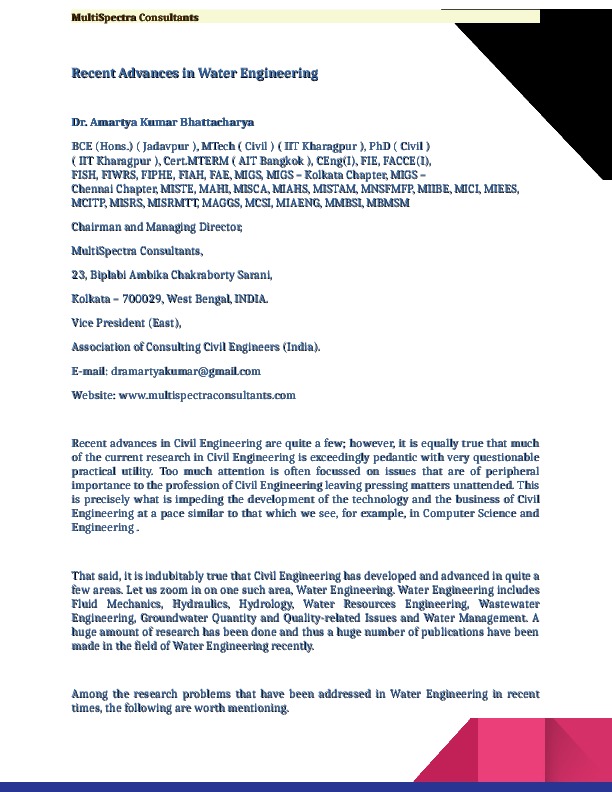 Recent ​advances in ​Civil ​Engineering are ​quite a few; ​however, it is ​equally true ​that much of ​the current ​research in ​Civil ​Engineering is ​exceedingly ​pedantic with ​very questionable ​practical ​utility.
Too ​much attention ​is often ​focussed on ​issues that are ​of peripheral ​importance to ​the profession ​of Civil ​Engineering ​leaving ​pressing ​matters ​unattended. ​This is ​precisely what ​is impeding the ​development of ​the technology ​and the ​business of ​Civil ​Engineering at ​a pace similar ​to that which ​we see, for ​example, in ​Computer ​Science and ​Engineering.
That said, it ​is indubitably ​true that Civil ​Engineering has ​developed and ​advanced in ​quite a few ​areas. Let us ​zoom in on one ​such area, ​Water ​Engineering. ​Water ​Engineering ​includes Fluid ​Mechanics, ​Hydraulics, ​Hydrology, ​Water Resources ​Engineering, ​Wastewater ​Engineering, ​Groundwater ​Quantity and ​Quality-related ​Issues and ​Water ​Management. A ​huge amount of ​research has ​been done and ​thus a huge ​number of ​publications ​have been made ​in the field of ​Water ​Engineering ​recently.​
Among the ​research ​problems that ​have been ​addressed in ​Water ​Engineering in ​recent times, ​the following ​are worth ​mentioning.​

Flow in ​meandering open ​channels.​
Flow in ​straight ​channels of ​compound cross-​section.​
Flow in ​meandering ​channels of ​compound cross-​section.​
Localised land ​subsidence due ​to groundwater ​depletion in ​the zone of ​influence of an ​individual well ​or a combination ​of wells for ​both linear ( ​Darcian ) and ​non-linear ( ​Forscheimer ) ​groundwater ​flow.
Land ​subsidence due ​to groundwater ​depletion below ​cities.​
Groundwater ​flow modelling ​for non-linear (​ Forscheimer ) ​flow.
Modelling of ​saline water ​intrusion in ​coastal ​aquifers.​
Study of ​saline water ​intrusion in ​different ​geographies and ​mathematical ​modelling of ​the same.​
Developing an ​innovative ​method for ​fresh water ​extraction in ​coastal areas ​using a shallow ​level crossed-​well cum ​vertical riser ​system with ​complete ​mathematical ​design of the ​same.
Desalination of saline water.
Study of ​arsenic ​contamination ​of water and ​its remediation.​
Disposal of ​arsenic sludge ​by fixing it in ​non-structural ​concrete.​
Groundwater ​movement in ​weakly and ​strongly ​randomly-​heterogeneous ​flow fields.​
Earthquake ​hydo-geotechniques ​for both weak ​and strong ​earthquakes.​
Study of ​fluoride ​contamination ​of water and ​its remediation.​
Rainwater ​harvesting ​including ​rooftop ​rainwater ​harvesting.​
Development of ​software ​related to the ​water sector.​
Application of ​water-related ​software to ​solve complex ​water-related ​problems.​
Continuing our ​focus on Water ​Engineering, ​making ​available ​drinking water, ​of adequate ​quantity and of ​acceptable ​quality, to the ​population is a ​major issue ​that must be ​addressed ​by the Civil ​Engineering ​profession.​ It is a fact ​that the ​piezometric ​level of ​groundwater is ​decreasing, ​sometimes at an ​alarming rate, ​under most, if ​not all, major ​cities.​ In large ​cities built on ​coastal ​alluvial soil, ​like Kolkata ​and Bangkok, ​this is causing ​soil consolidation ​and land ​subsidence ​which in turn ​is resulting, ​in some cases, ​to distress in ​superstructures.​ Sometimes, the ​quality of the ​water being ​supplied to the ​residents of a ​city is in ​the spotlight. Saline water ​intrusion ​plagues coastal ​areas and is a ​major problem ​in cities like ​Chennai. In ​certain other ​cases, presence ​of arsenic or ​fluoride or ​both in the ​water source ​necessitate ​extensive ​treatment of ​the water ​before it can ​be supplied to ​the residents of a city.
Let us now ​take a look at ​two unsolved ​problems of ​current ​research. First,​ the issue of ​earthquake ​hydo-​geotechniques ​for strong ​earthquakes has been ​addressed only ​qualitatively ​as a quantitative ​analysis still ​eludes the ​Civil ​Engineering ​profession. ​Second, no ​attempt has ​been made to ​determine ​exactly or even ​approximately ​the total soil ​consolidation ​due to the ​combined effect ​of groundwater ​depletion and ​superstructure ​loading. For ​the first ​problem, I have ​arrived at an ​approximate ​solution. For ​the second ​problem, I have ​proposed that, ​to begin with, ​a linear ​addition of the ​soil consolidation ​due to the two ​phenomena be ​done as a first ​approximation ​to the actual ​soil consolidation.​
The Civil ​Engineering ​profession must ​aim at ​sustainable ​development. ​Sustainable ​development ​implies ​development in ​a manner that ​is well thought-​out, that does ​not harm the ​environment, ​that can be ​sustained ​without the ​need to ​radically alter ​the development ​strategy due to ​insufficient ​thought-input ​during the ​process of ​formulating the ​development ​strategy and ​that is marked ​by wisdom in ​chalking out ​all steps of ​the development ​process. For ​cities, ​having green ​zones in a city,​ harvesting ​rainwater to ​augment water ​supply and ​using solar ​panels to ​generate ​electricity are ​all good ​practices that ​should be ​embedded in any ​city-planning ​plan.
Dr. Amartya ​Kumar ​Bhattacharya ​
BCE (Hons.) ( ​Jadavpur ), ​MTech ( Civil ) ​( IIT Kharagpur ​), PhD ( Civil )​ ( IIT ​Kharagpur ), ​Cert.MTERM ( ​AIT Bangkok ), ​CEng(I), FIE, ​FACCE(I), FISH, ​FIWRS, FIPHE, ​FIAH, FAE, MIGS,​ MIGS – ​Kolkata Chapter,​ MIGS – ​Chennai Chapter,​ MISTE, MAHI, ​MISCA, MIAHS, ​MISTAM, MNSFMFP,​ MIIBE, MICI, ​MIEES, MCITP, ​MISRS, MISRMTT, ​MAGGS, MCSI, ​MIAENG, MMBSI, ​MBMSM
Chairman and ​Managing ​Director,​ MultiSpectra Consultants,
(See the contact information in the attachment below)