REvivED water video 2 2019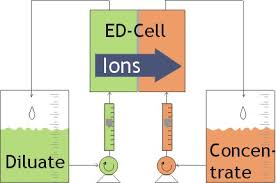 German company Phaesun installs solar-powered water desalination plants in Gujarat
The pilot plants—installed at a temple and a school—work on a membrane-based electrodialysis technology to provide clean drinking water.
Due to its low energy needs, electrodialysis technology for water desalination is well suited for solar power supply. Image: Encavis AG
German company Phaesun has installed two solar-powered water desalination pilot plants in Gujarat, which now provide clean drinking water from brackish water for a school and a temple.
The innovative desalination plant is based on electrodialysis technology, and is being developed by Phaesun, together with nine other European project partners, as part of the EU development and innovation project Revived Water.
Within the framework of the Revived Water project, Phaesun is focusing on independent solar-powered systems that can produce up to 2000 litres of drinking water per day from salty water reservoirs.
The technology
Unlike conventional desalination technologies based on thermal technology or reverse osmosis, electrodialysis requires neither high temperatures nor high pressures. It is based on a membrane technology, wherein an electric current ensures that salt ions are passed through an ion exchange membrane, thus allowing the salt content to be significantly reduced without filtering other important minerals out of the water.
Phaesun Managing Director Tobias Zwirner explained: "The new technology requires little maintenance and due to its low energy needs, it is well suited for solar power supply. This makes it particularly suitable for applications in remote areas in developing countries without a power grid. This is exactly where Phaesun's expertise lies."