Samkna fish farm first in region to use offshore floating cage technology; to produce Qatari seabass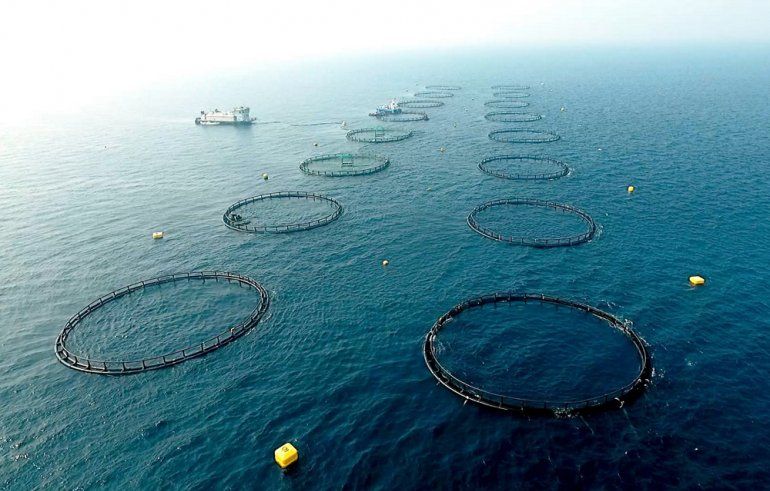 Samkna has announced the launch of the first offshore Aquaculture project in open water using floating cages technology in Qatar and the region. Samkna also announced the launch of its first production of Qatari seabass locally in order to supply the market with protein-rich fish and to enhance self-sufficiency in the fish production sector in the country.
On the occasion, Hamad Saleh Al Qamra, Chairman of Qamra Holding said, "Thanks to the kind patronage and wise direction of the Amir H H Sheikh Tamim bin Hamad Al Thani to facilitate support to the private sector in the state, we were able - to witness the first production, from our offshore fish farm, in the Qatari market."
"Had it not been for government initiatives to support we would not have been able to complete the first project of its kind in Qatar and the region for offshore fish farming using floating cages technology," he added.
Form his side, Mohammed Al Qamra, General Manager of Samkna said, "We are pleased to announce the launch of the Qatari seabass, the first production of Samkna in the market, which reflects the commitment of Al Qamra Holding to develop sustainable economic projects that contribute to the realization of the Qatar National Vision 2030."
"In line with the National Food Security Strategy 2019-2023, we started the trial operation in early 2019, and in June 2020 we reached full operation of eight floating cages with a production capacity of 2000 tonnes per year of Qatari seabass fish as a first stage, through which we seek to provide safe and healthy strategic stocks through the optimal use of the natural and water resources in the country," he continued.
"Samkna fish farm is located 50 kilometers away from the coasts in the Qatari waters northeast of the Ruwais region. The total marine site area for the project is 900 thousand square meters, and includes 16 floating cages for the cultivation of a diverse type of fish of high economic value for which there is a large demand in the local market such as the Qatari Seabass," he concluded.
Samkna has erected a factory in an area of 10 thousand square meters in Ruwais close to the fish farm, which deals with all aspects of packaging and wrapping in cooperation with the most advanced international companies specialized in this industry to ensure that fish reaches the consumers fresh and in the least possible time. The factory includes refrigerated rooms to receive fish at temperature varying between 0 to 4 degrees Celsius to maintain the highest bio-security standards that support the quality of the final product.