Sarvajal's Solar Powered Water ATM Franchises Provide Clean Water in India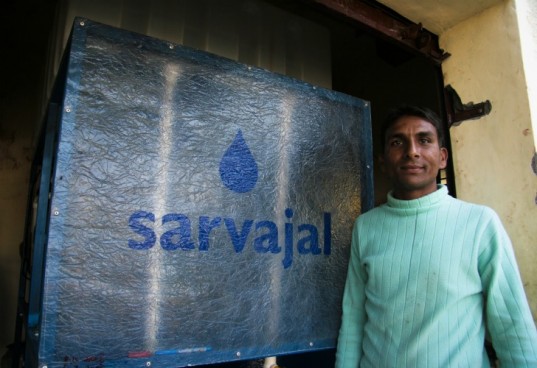 With over one billion people lacking access to clean drinking water, one new Indian company is making strides to change that statistic with a forward thinking business model. Sarvajal, which means 'water for all', is providing clean water for almost 70,000 people with their solar powered water ATMs. Powered through a franchise business model, Sarvajal provides the water filtration equipment and the maintenance while a member of the local community runs the business and sells the water. It's a win-win for everyone - new jobs for the community and clean drinking water.
Sarvajal, which is run by Piramal Water Private, was started back in 2008 and is a limited for-profit social enterprise with the mission of providing affordable, accessible and pure water for all. The water service provider believes that the best way to provide clean water and run a good business is to place it in the hands of member of the local community. Based in Ahmedabad, India, Sarvajal recruits local entrepreneurs to run water service franchises. The entrepreneur pays a reasonable startup cost to Sarvajal, who provides all the filtration equipment. The franchise owner then sells water and delivers water to the community with the profits being shared 60:40 between the franchisee and Sarvajal. Most of the franchisees will hire an operator, a delivery driver and an assistant, creating 3 new jobs for the community.
Sarvajal's commitment goes beyond providing the equipment though. Their water filtration devices, which utilize reverse osmosis and ultraviolet rays to clean the water, are equipped with real time monitors to alert the company of their status. If a filtration unit begins to not operate correctly and water quality drops, the unit notifies Sarvajal immediately and the company sends someone to maintain it. The remote monitoring and water tracking systems give the company real time information about water quality, how much water is being sold, where and when – all with the goal of improving service and providing more people with more clean water.
Equipment is tailored for each franchise based on the community and number of households served. Some franchises operate out of a store with a larger filtration unit, while others manage solar powered ATM-like water dispensers. Customers get 24-7 access to clean water and pay using their pre-pay cards (or coins), which they can recharge just like mobile phone minutes. As of now, there are 127 rural franchises serving almost 70,000 people and families pay around $3 a month for clean water.
Images ©Sarvajal