Satellite system will track Western water usage

Irrigators and regulators frequently encounter the same predicament: They want to measure actual water but must instead deal with paper.
Estimates of large-scale water usage needed by regulators often depend on "paper water," or government-issued permits that describe the amount legally available for withdrawal but don't reflect real consumption.
Farmers face a similar dilemma with published studies about crop irrigation requirements that aren't specific to their climate, potentially causing them to use more water than necessary or not enough to optimize yields.
in 2021, a team of public and private scientists plan to release a tool that will alleviate the problem by estimating evapotranspiration — water released by plant foliage and soil evaporation — from satellite images of the Western landscape.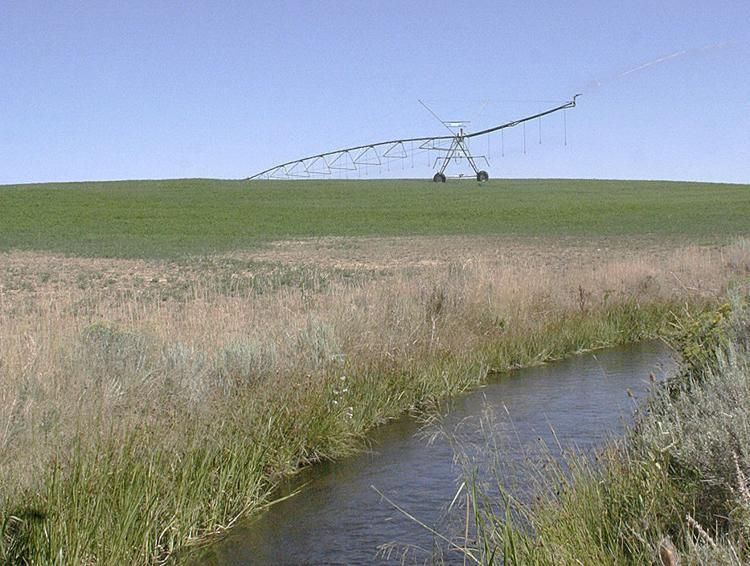 "It's going to change the game for water managers," said Rep. Mark Owens, R-Crane, during the Oregon House Water Committee's Dec. 17 hearing.
The OpenET technology platform, developed by NASA, Google and several nonprofit groups, estimates water consumption based on the cooling effect of evapotranspiration, which is measured with satellite data about light reflection and surface temperature.
Farmers can use the system to see how much water is consumed in particular fields over time, giving them a more precise understanding of irrigation needs, said Rep. Owens, who also grows about 3,000 acres of alfalfa in Oregon's Harney County.
"How can we raise a crop with the least amount of water?" he said. "I can design irrigation systems to meet the needs of the crop."
For example, center pivots historically applied more than 7 gallons of water a minute per acre of alfalfa based on the crop's maximum irrigation needs during the hottest days of summer, he said. That's likely an excessive rate but was commonly used to avoid drought stress.
If alfalfa growers can reliably estimate the crop's evapotranspiration rate during various temperature and weather conditions, however, they can conserve water when it's less needed without sacrificing yields, Owens said.
"I can make the determination to shut the pivot off for one or two or three days in the spring, knowing that my crop isn't getting stressed," he said.
Owens has worked with the OpenET team to verify the tool's evapotranspiration estimates with his own data, which was collected with specialized sensors connected to a weather station. The surface-based systems costs about $50,000 apiece, preventing them from being financially practical across broad swaths of land.
Water regulators also can use OpenET to compensate for the lack of information they have about water usage in basins suffering from declining aquifers or insufficient surface flows. In Oregon, for example, only about 16% of the total water rights in the state must measure and report water usage.
"This data gap can be bridged with OpenET technology," said Ivan Gall, field services division administrator for the Oregon Water Resources Department.
From the regulatory standpoint, the data can help OWRD detect potentially unauthorized water usage by comparing the satellite imagery with its map of legal water rights, he said.
However, it's unlikely that OpenET will render water-measuring devices obsolete in areas with water shortages that cause conflicts among water users, Gall said. Such enforcement decisions must be made quickly, while the satellite imagery has a delay of up to six weeks.
"That's not the real-time management that our watermasters do around the state," he said.
Groundwater studies, which measure possible over-utilization on a vast scale, traditionally relied on assumptions about water usage that can now be quantified much more accurately with satellite data, said Jordan Beamer, a hydrologist with OWRD.
Since the satellite images go back to the 1980s, the agency can also use OpenET to analyze how irrigation patterns have changed over time, Beamer said.
"We want to expand the use of this technology and integrate it into our processes," he said. "We see this as a useful tool for basin-scale planning."
The scientists who've developed OpenET expect to form a nonprofit group to oversee the technology and make it widely available free of charge to small- and medium-sized water users, said Forrest Melton, senior research scientist with NASA.
Farmers will be able to find water consumption information from an aerial field map of 17 Western states online or they may integrate the data into their existing irrigation management tools, he said. "Everyone will have access to the same information."
see attached press releaase