Siltbuster shortlisted for 'Best Innovation' category for this year's Construction News Awards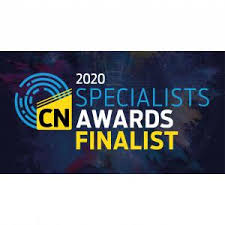 Siltbuster, the UK's leading water treatment specialist, has been shortlisted in the 'Best Innovation' category for this year's Construction News Awards.
The coveted awards, which are now in their 24th year, celebrate the very best companies, projects and achievements within the construction industry.
Siltbuster has been recognised for its launch of Clarity, an online, real-time water quality monitoring and reporting system. Clarity allows our clients to safely manage risk with key legally binding discharge parameters reporting directly to a web based portal from where Environmental Managers can make sure the waters leaving the Siltbuster system are safe to do so.
The technology sends alarm notifications to Site Managers if any problems are detected, such as the presence of pollutants in water being discharged. If left unmanaged, this could result in environmental harm, fines and corporate brand damage. With Clarity, construction sites are able to respond rapidly to engage preventative measures and stop potential pollution incidents from occurring. The technology also provides essential reassurance to regulatory bodies, allows for robust data collection and ultimately protects the environment.
Tristan Hughes, Construction Sales Manager at Siltbuster, said: "Construction is an inevitable requirement of human existence but how the impacts are managed is down to us. Designed in-house at our water treatment centre of excellence, Clarity has taken the monitoring of water treatment, both here in the UK and internationally, to the next level."
"We're thrilled that Clarity has been shortlisted in such a fiercely contested category at the main awards for the construction industry. Good luck to the other nominees, but we will have our fingers crossed on the night."
The winners of The Construction Awards will be announced at a ceremony on the 9th July at Grosvenor House Hotel in London.