Smart ponds creating a splash in field of stormwater control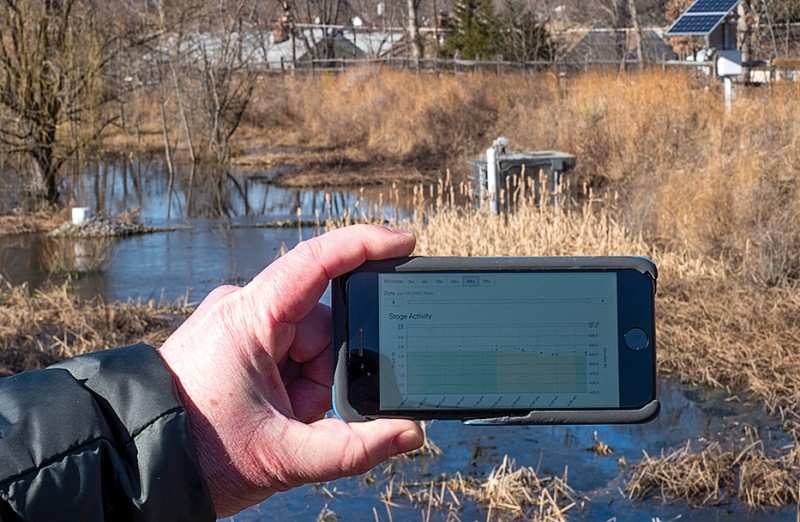 Engineer Bob Bathurst overlooks a stormwater pond that his company retrofitted in suburban Windsor Mill west of Baltimore. "This is going to do wonderful things," he said of smart-pond technology, especially for existing stormwater facilities "that are out there, already paid for and underperforming." (Dave Harp)
Runoff retention sites adjust levels when rain is forecast
One of the oldest methods for capturing runoff, the stormwater pond, is getting a digital makeover. It no longer simply collects rainfall washing off pavement and lawns. The new version anticipates precipitation before it begins and adjusts itself to reduce downstream pollution and flooding.
Welcome to the dawn of "smart" stormwater management.
A few dozen runoff collection ponds that were built years ago in the Chesapeake Bay watershed have already been retrofitted to "smarten" them up. Equipped with real-time sensors and cloud-based controls, they remotely release or retain stormwater in response to online weather reports. More — likely many more — are on the way.
"I think we're on the cusp of a great transformation," said David Rubinstein, chief executive officer of Opti, who said his Massachusetts-based company has built 150 smart ponds in 20 states. It has 18 so far in the Bay watershed, most of them in Maryland.
Others are more cautious, but still optimistic about the promise of the new technology.
Engineer Bob Bathurst overlooks a stormwater pond that his company retrofitted in suburban Windsor Mill west of Baltimore. "This is going to do wonderful things," he said of smart-pond technology, especially for existing stormwater facilities "that are out there, already paid for and underperforming." (Dave Harp)
"It's somewhat of a revolution," said Tom Schueler, executive director of the Maryland-based nonprofit Chesapeake Stormwater Network.
For the last 30 to 40 years, Schueler said, engineers have been relying on gravity alone to capture and treat runoff, mainly to control flooding and stream erosion. Dry and wet stormwater ponds pepper the landscape across the Bay watershed, where they passively collect and hold runoff whenever it rains.
But just as the "internet of things" has transformed daily life in other ways, from smartphones to smart appliances, web-based technology is offering a new way to deal with stormwater, one of the leading sources of pollution in the Chesapeake.
Runoff carries dirt, fertilizer, pet waste, oil, chemical contaminants, and litter into nearby streams. It accounts for 16% of the nitrogen, 18% of the phosphorus and 24% of the sediment fouling the Bay, according to the state-federal Chesapeake Bay Program. Reducing stormwater pollution has proven to be difficult, as development spreads more runoff-inducing rooftops and pavement.
Local and state agencies have turned increasingly to restoring eroding stream banks in an attempt to reduce the flow of sediment and nutrients washing into the Bay from existing development. Those projects have proven to be costly and varied in effectiveness.
"A lot of the money we're spending now is to fix the sins of the past," said Bob Bathurst, a principal with Century Engineering, a Hunt Valley, MD, firm that also works on smart ponds. "The stream channel erosion that's ongoing, unless we control the runoff rate, we're going to continue to have it."
Schueler said he sees wired, actively managed smart ponds as complements to stream restoration projects. They can curb the surge of runoff that erodes stream banks, he said, and can enhance the pollution-trapping performance of old stormwater basins 25–50%, They can also reduce the frequency or severity of downstream flooding from intense rainstorms.
Smart stormwater ponds can be monitored and even manually operated remotely. Engineer Bob Bathurst shows a graph on his phone screen depicting how water level in one pond had been lowered in advance of a deep freeze to the reduce risk of drowning if someone stepped onto the ice and it broke. (Dave Harp)
"You have potentially tens of thousands of older stormwater ponds in the upland areas where this treatment can take place," Schueler said.
It doesn't take a lot to convert an old pond into a smart one. A sensor placed on the bottom monitors the water level, while an electronically activated "actuator" is used to open or close a butterfly valve installed in the pond's water release outlet. A microcomputer connected to the internet collects water-level and weather forecast data and manipulates the release valve.
"It's all automatic," Bathurst explained as he surveyed a large pond his firm converted a couple of years ago in the suburban Windsor Mill area west of Baltimore.
By: Timothy B. Wheeler, Bayjournal.com