SWA Webinar : The Water Market in South East Asia (050820)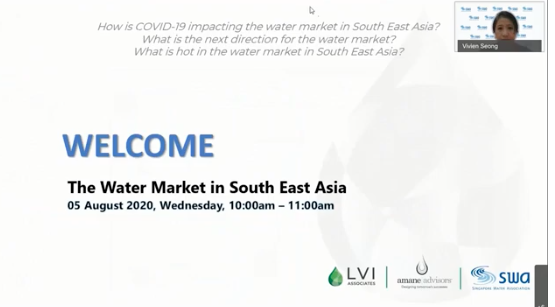 WEBINAR: THE WATER MARKET IN SOUTHEAST ASIA
Pravi Bansal shares his perspectives on the impact of COVID-19 in water in Southeast Asia and trends we can anticipate in the dynamic region
How is COVID-19 impacting the Water Market in Southeast Asia?
In South East Asia, we have seen utility revenues take a hit due to the closure of commercial establishments in the wake of regionwide lockdowns, and a definite slowing down in government decision-making on infrastructure projects and policies, while existing construction projects have also been delayed due to manpower crunch. The reallocation of state budgets to healthcare has also resulted in potential slowdowns in financing for water infrastructure, with governments having to rethink carefully about their spending after having pushed through sizeable stimulus packages. On the positive side, the Healthcare and Food & Beverage industries have proven resilient despite the impact of the pandemic with increased demand, seeing growth in spending on water treatment, recycle and reuse.
What is the next direction for the water market? What is hot in the market for Southeast Asia?
Looking ahead, we see strong needs for private sector participation and a greater role for multilateral financing to supplement government infrastructure spends. There are pockets of opportunities that continue to persist, such as digitalization among more progressive utilities, a growing market for residential and commercial water filters and coolers and increased demand for water and wastewater solutions in industrial parks.