Talbot provides total water management solution for South Africa coal producer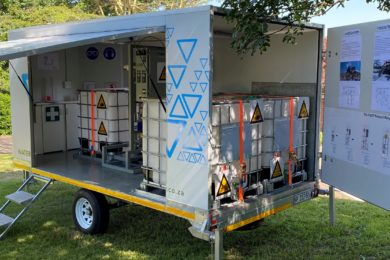 Talbot recently came to the rescue of a South Africa coal producer looking to remove gypsum from its waste stream, thereby freeing up capacity at a downstream dam.
While Talbot has more than three decades of experience in delivering industrial water management solutions across the African continent, what is not generally realised is the fact the company's expertise extends beyond the ambit of water itself, the South Africa sustainable water and wastewater specialist says.
"Dealing with sludges and waste streams, typically with high suspended loads, is often required to provide a total water management solution and is viewed as being both a complex and expensive process," Talbot said, explaining this needn't be the case.
Talbot Consulting Services General Manager, Claire Lipsett, says the leading Highveld coal producer in question called on the company to provide a solution for the removal of gypsum generated as a by-product of its coal mine water purification process.
Lipsett explains the waste stream flowing out of the treatment process into a downstream holding dam contained a high content of gypsum, to the extent it significantly reduced the facility's finite storage capacity.
Following an on-site examination of the processes involved, Talbot proposed a simple and well-known technology that would provide an effective solution and could be proven on site during live operations through pilot testing.
In this case, a hydraulic filter press was selected to dewater the solids, dry and press them into briquette form for transportation to end-use customers. The filtrate – minus the extracted solids – was directed to the evaporation dam before returning to site processes via a blend line, Talbot said.
The effectiveness of the solution was proven during a two-week trial in March, which achieved impressive results, according to Lipsett. "We reduced the waste solids from around 2,900 mg/l to just 84 mg/l," she said. "We also demonstrated that the technology would extract gypsum at a rate of 100 kg/h on a full-scale site operation."
The trial, Lipsett says, showed that effective solids removal could be achieved in a single-step process, without the use of flocculants or coagulants. It also offered the client an easy-to-operate, appropriate solution to achieve total water management for the site.
Pilot trials conducted by Talbot, such as this, generate several benefits that enable clients to not only fully understand the short-term implications of investing in a new technology but how they will positively impact on the future operation of a business, according to Lipsett.
"Before making any form of commitment, the client has the opportunity to engage with the technology and equipment in terms of look and feel, its effectiveness and ease of operation, all the while receiving technical and commercial guidance from a supplier that is a leader in its class and is committed to providing long-term support, not just a one-off sale," she said.