THE CHLORINE INJECTOR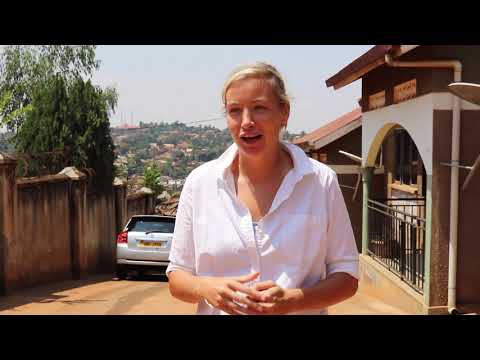 THE CHLORINE INJECTOR
A quick overview from Ces about what the profits from our re-usable bottles go to!
The beauty of the BlueTap technology is in its simplicity: it uses no electricity, has no moving parts and can be easily inserted into a pipe network. An injection valve controls the chlorine flow rate, meaning we can insert just the right amount of chlorine needed to purify your water.
When University of Cambridge PhD student Francesca O'Hanlon founded social enterprise Blue Tap, her goal was to find a more reliable way to chlorinate household water supplies in developing countries.
Fast forward three years, and the Blue Tap team has begun testing their water purification technology in Uganda, as well as working with and training local plumbers.
Francesca shares the Blue Tap story.
Across the world, many people treat dirty water with chlorine tablets. These tablets do not disperse correctly, meaning there isn't a consistent level of chlorine in the water. I thought up the idea for Blue Tap in 2013 during an Engineers Without Borders UK project in Mexico City. A rainwater harvesting non-governmental organisation (NGO) asked for an engineer who could answer their beneficiaries' request to find a more reliable way to chlorinate their water.
I set out to build a simple, low-cost chlorine injector. At that time, one key barrier to adoption was that the chlorine injector was quite complicated to assemble. So I put the project aside when I went to work as a water resources engineer for Médecins Sans Frontières in a refugee camp in South Sudan. While I was there, I ordered a chlorine doser which was sold to me for about £600. This seemed an extortionate price to pay for chlorine dosing.
I wholeheartedly believe that water purifying technology must be affordable and simple to use if it is to provide a suitable long-term solution to clean water needs. I was motivated to use 3D printing to redesign a chlorine injector at a more affordable price. I came to Cambridge to begin my PhD at the Centre for Sustainable Development in October 2016, and this marked the start of the Blue Tap project. I used the 3D printers in the Department of Engineering's Dyson Centre for Engineering Design to start prototyping at a cost of just £1 per prototype. Access to 3D printing has meant that I've been able to significantly improve and simplify the design so that it is now robust and easy to use. The chlorine injector is designed to automatically inject the right amount of chlorine into household-level water systems. I wholeheartedly believe that water purifying technology must be affordable and simple to use if it is to provide a suitable long-term solution to clean water needs.
From my experience working in the humanitarian sector, one of my core beliefs is that job creation is the best way to improve socioeconomic development. It forms the foundation of our business model, which is to sell the chlorine injector to local plumbers in Uganda while providing them with a free training course. Joining me in the project are Tom Stakes (Blue Tap Chief Technical Officer and Engineering alumnus) and Rebecca Donaldson (Blue Tap Chief Operations Officer and Bioengineering undergraduate). Together with some support from Dr Stuart Scott, Reader in Energy and Thermodynamics, we have designed and tested the chlorine injector in Cambridge and have gone on to run trials in Uganda through our partnership with Afrinspire, a Cambridge-based charity that runs development projects in East Africa.
We ran field trials in Uganda in September 2018 and September 2019, and collected feedback from the local plumbers. This was primarily to find out how easy they had found the chlorine injector to install and maintain. We then incorporated this feedback into the redesign of the technology. This is called a human-centred approach, and it is very popular within the affordable technology sector.
Through our partnership with Afrinspire, we've created a cohort of 25 plumbers and plumbing train ee students. Almost a quarter of the students are female, which is fantastic! We have shown the cohort how to install and troubleshoot the technology, and have advised them on business management best practice. They can now sell on the technology to customers in their community. This business model means that skilled technicians are constantly available in the community to maintain the technology, and plumbers can improve their overall annual income by collaborating with Blue Tap.
In 2017, I applied for the National Geographic Explorers Award and was successful. I responded to their call for innovations that can improve the sustainability of cities and was awarded grant funding for Blue Tap for a year. Thanks to this and a £6,000 grant from the Winton Programme for the Physics of Sustainability in 2018, we were able to fund our field trials. Back in Cambridge, we sell reusable water bottles to raise funding and awareness about water access issues across the globe. Several of the University's cafés have purchased our bottles to then sell on to students, with the aim of encouraging the Cambridge community to cut down on their consumption of single-use plastics.
SOURCE OF ARTICLE CAMBRIDGE NETWORK
SOURCE BLUE TAP