The digital transformation of the water sector is accelerating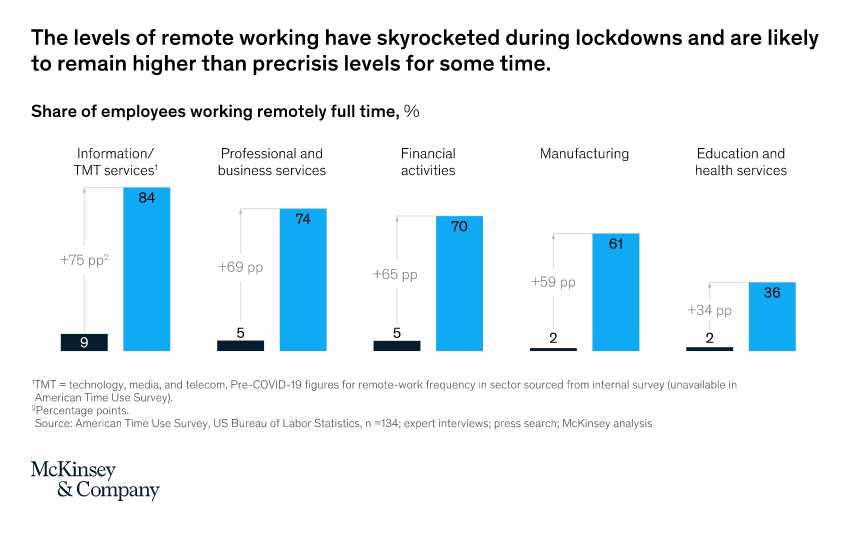 The rapid migration to digital technologies driven by the pandemic will continue into the recovery. Here's how to accelerate your organization's digital capabilities to keep pace.
By now, most C-suite executives have led their companies to digitize at least some part of their business to protect employees and serve customers facing mobility restrictions as a result of the COVID-19 crisis. As one CEO of a large tech company recently stated, "We are witnessing what will surely be remembered as a historic deployment of remote work and digital access to services across every domain."
Indeed, recent data show that we have vaulted five years forward in consumer and business digital adoption in a matter of around eight weeks. Banks have transitioned to remote sales and service teams and launched digital outreach to customers to make flexible payment arrangements for loans and mortgages. Grocery stores have shifted to online ordering and delivery as their primary business. Schools in many locales have pivoted to 100 percent online learning and digital classrooms. Doctors have begun delivering telemedicine, aided by more flexible regulation. Manufacturers are actively developing plans for "lights out" factories and supply chains. The list goes on.
As some regions begin reopening, businesses are considering how to return to some semblance of full speed in an unstable environment in which lockdowns will ease (and potentially be reinstated) in waves. In doing so, they will need to confront three structural changes that are playing out.
First, customer behaviors and preferred interactions have changed significantly, and while they will continue to shift, the uptick in the use of digital services is here to stay, at least to some degree (Exhibit 1). Fully 75 percent of people using digital channels for the first time indicate that they will continue to use them when things return to "normal."1 Companies will need to ensure that their digital channels are on par with or better than those of their competition to succeed in this new environment. If China offers us any lessons, digital laggards will be substantially disadvantaged during the recovery.
Exhibit 1
We strive to provide individuals with disabilities equal access to our website. If you would like information about this content we will be happy to work with you. Please email us at: McKinsey_Website_Accessibility@mckinsey.com
Second, as the economy lurches back, demand recovery will be unpredictable; uneven across geographies, sectors, product categories, and customer segments; and often slow to return to precrisis levels. While a few sectors will face unusually strong demand, leaders in many industries must deal with periods of structural overcapacity. Those companies face the painful need to rightsize the cost base and capital of their operations, supply chains, and organizations overall and to transition their fixed costs to variable costs aggressively wherever possible. Complicating matters for leaders as they grapple with ways to deal with an uneven recovery is that historical data and forecasting models will be of little use to predict where pockets of demand will emerge and where supply will be necessary. New data and completely rebuilt analytical models will be essential to steer operational decisions.
Finally, many organizations have shifted to remote-working models almost overnight. A remote-first setup allows companies to mobilize global expertise instantly, organize a project review with 20—or 200—people immediately, and respond to customer inquiries more rapidly by providing everything from product information to sales and after-sales support digitally. In effect, remote ways of working have, at least in part, driven the faster execution drumbeat that we're all experiencing in our organizations. And this step change in remote adoption is now arguably substantial enough to reconsider current business models.
Open interactive popup Article (PDF-362KB)