The Rising Tide Mastermind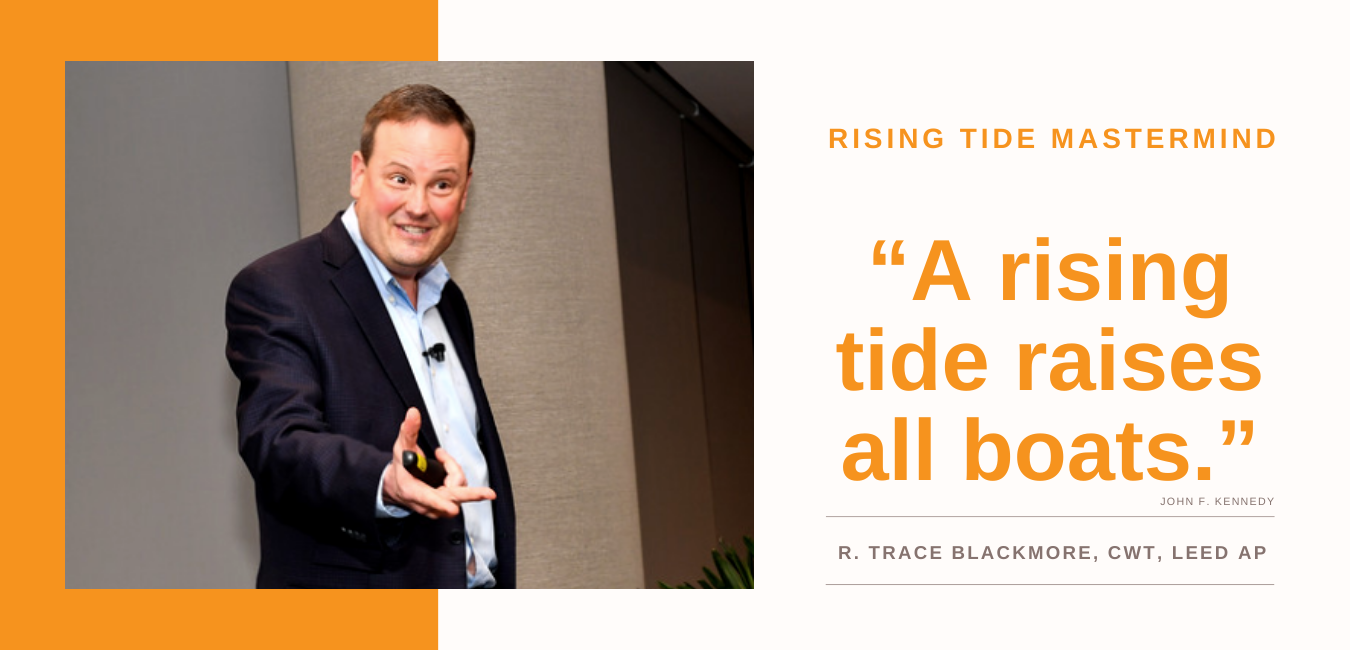 Trace Blackmore, LEED AP, CWT (Certified Water Technologist), and host of Scaling Up! H20, the premier podcast in the Water Treatment Industry is offering the Rising Tide Mastermind.
Trace Blackmore, owner, and operator of Blackmore Enterprises, host of Scaling UP! H20 The Water Treaters Podcast is now offering The Rising Tide Mastermind, a place to grow professionally and personally while gaining trusted advisors to go through life with. The name was drawn from Trace's favorite quote by John F. Kennedy, "A rising tide raises all boats."
Trace has been mentored by trusted advisers, is an active member of Vistage International, and has been an active participant in several Mastermind programs. These programs have played a role in his continued success in business and in life. He believes in the power of walking through life with others who challenge and hold you accountable to achieve your goals.
A Mastermind is a group of professionals who would like to grow and encourage others to grow in their professional and personal lives. The groups will meet for a specific amount of time once a month to discuss professional topics and goals.
The Rising Tide Mastermind is built on the foundation of relational, business, and mentorship excellence. Groups are designed to build members up according to their needs. This allows for encouragement, support, and challenges from others. The 10 high performing characteristics are paramount in order to challenge professional growth. Group members are navigated through a process of identifying and accomplishing business and personal objectives. The group holds members accountable for goals and will celebrate when they achieve them.
Members receive the following in addition to monthly meetings with group members: one annual 2-day retreat, quarterly book digest, quarterly 1 to 1's with Trace Blackmore, online access tools in a private group, and a member directory.
Trace is an entrepreneur and teacher at heart with over 22 years of experience. He started Blackmore Enterprises and has been an active board member on four different boards. He leads the Scaling UP! Nation, inspiring, and teaching those in the water treatment industry to grow their professional career and better their personal lives.
Learn more about The Rising Tide Mastermind at https://scalinguph2o.com/mastermind.