To Fish or Not to Fish: Using Real-Time Data to Protect Trout Populations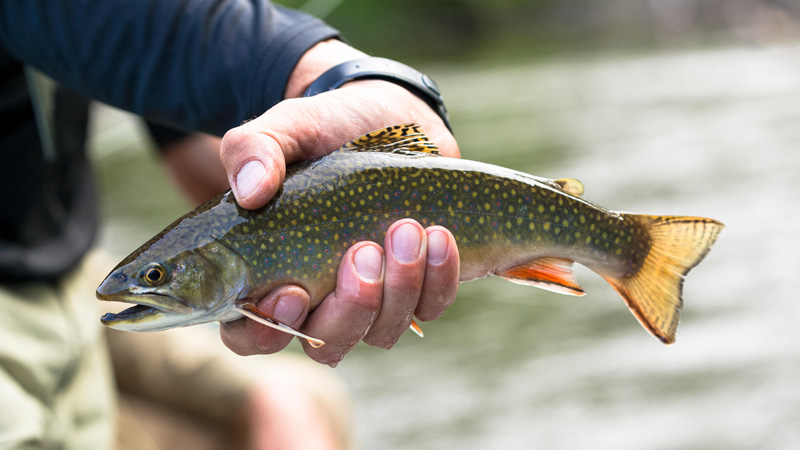 Guide Ed McCoy and a client on the Manistee River, Michigan.
EnviroDIY Monitoring Station on the Manistee River, Michigan.
Extra driving would be one thing if he was on his own time, but Ed is a guide for Mangled Fly, and he wants to maximize the time his clients spend on the water fishing. Mangled Fly runs over 500 guided trips per year, and the having water data at their fingertips allows advanced planning that saves Ed and his clients valuable time. It also showcases proper stewardship of the resource to clients. Ed and the other guides at Mangled Fly share their data-driven decision-making process with their clients and encourage catch-and-release fishing.
The EnviroDIY monitoring station also helps Ed and other guides determine where to fish based on the depth of the river. Because he knows the river like the back of his hand, he can translate the water depth at the monitoring station to the depth at all the productive fishing spots on the river. Knowing when he should take a boat and when he should bring waders is critical for trip planning.
But the water data isn't just for short-term planning; the long-term record of water quality captured by the monitoring station could help river stewards and stakeholders identify emerging threats to the river from pollution and land use practices.
Ed says that the EnviroDIY monitoring station is "an important decision-making piece of equipment" for Mangled Fly, and he would like to install two more on the Manistee River.
They also use real-time data from the USGS, but that station is too far downstream to inform many of their operations.
The idea of monitoring the Manistee came up during a fishing trip with members of Trout Unlimited (TU), and with financial help from the Elliott Donnelly Chapter of Trout Unlimited in Chicago, Illinois, the monitoring station became a reality. The installation was led by Jake Lemon (@jlemontu-org on EnviroDIY.org), TU's Eastern Angler Science Coordinator, along with 13 other EnviroDIY monitoring stations across north and western Michigan since 2019.
Trout Unlimited and Mangled Fly teamed up with a local landowner to site the EnviroDIY monitoring station where the landowner could keep an eye on it. Ed says that beyond routine cleaning of the sensors the monitoring station has been fairly low maintenance. They did have to add a larger solar panel to compensate for the shady summertime conditions. But Ed isn't complaining about the shade because that's what keeps brown trout thriving during the heat of summer.
Brook Trout caught on the Manistee River, Michigan.