UAE's expanded power, desalinationation plant inaugurated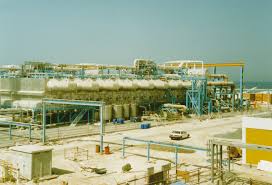 Dubai is ready to cope with a growing demand for power and water after the UAE's largest desalination plant was expanded by 700 megawatts (MW) on Monday.
Shaikh Hamdan Bin Rashid Al Maktoum, Deputy Ruler of Dubai, Minister of Finance, and President of Dubai Electricity and Water Authority (Dewa), inaugurated the M-Station expansion in Jebel Ali on Monday along with Mattar Humaid Al Tayer, chairman of the Board of Directors of Dewa and Saeed Mohammad Al Tayer, managing director and CEO of Dewa.
The Dh1.52 billion expansion project in partnership with Siemens and Mott MacDonald added new generating units with a capacity of 700MW, bringing its total capacity to 2,885MW. The Dh11.66 billion plant built in 2013 can now produce 140 million imperial gallons of desalinated water per day (MIGD).
Saeed Mohammad Al Tayer said the project is in line with the vision of the UAE's leadership to raise Dubai's profile and improve the quality of life in the city as part of the UAE Centennial 2071 goal to make the UAE the best country in the world.