UK GRANT FOR WATER PURIFICATION TECHNOLOGY AIDED BY 3D PRINTING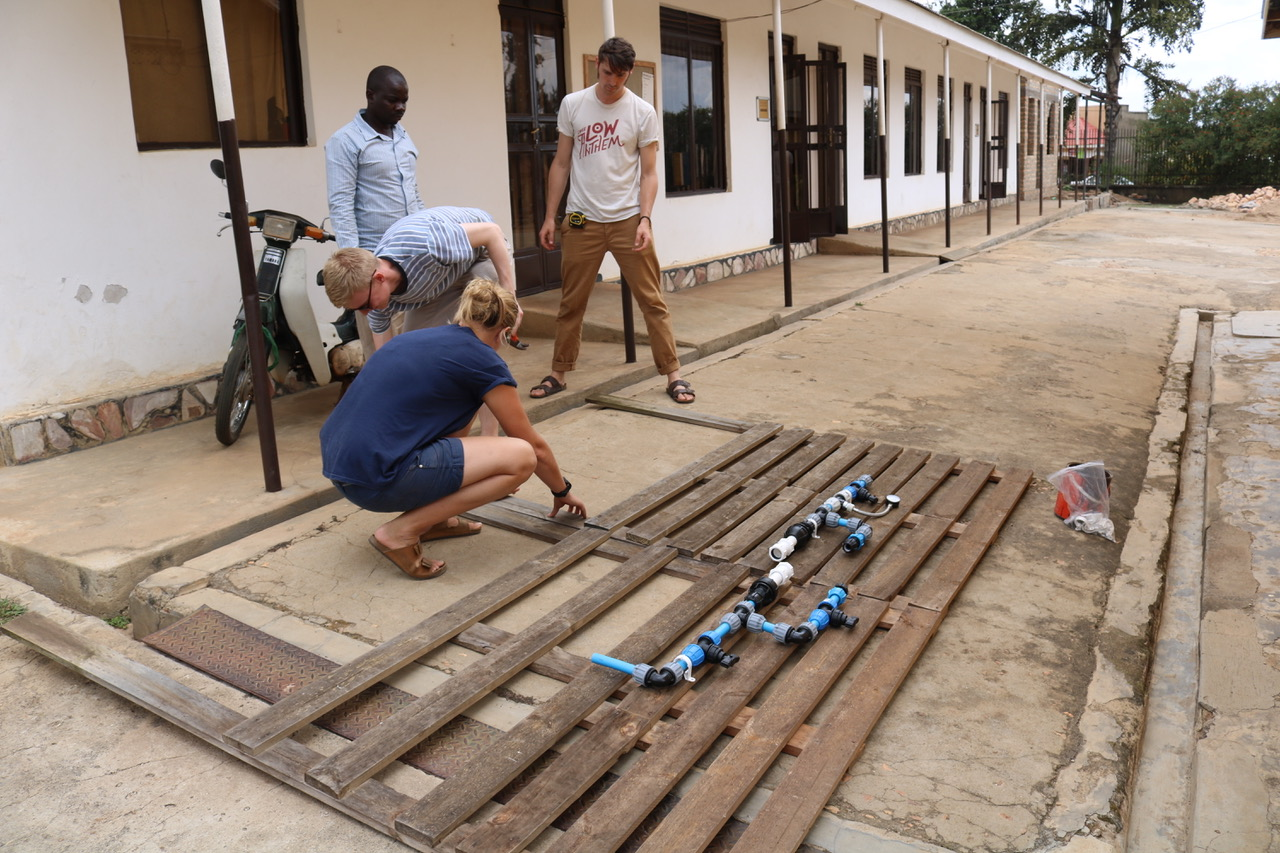 Social enterprise and University of Cambridge spin-out Blue Tap has received an Innovate UK Smart Grant to support the technical development of its water purification technology.
The Blue Tap team used 3D printing to rapidly develop its chlorine doser, which is designed to be fitted into piped water systems in developing countries in order to make water safe to drink.
"Not only does this kind of support from Innovate UK allow us to buy all the materials and sensors that we need for technical development, it also encourages us to keep moving forward," said Blue Tap founder and CEO Francesca O'Hanlon.
"OUR GOAL IS TO CREATE AN AFFORDABLE WATER PURIFICATION PRODUCT FOR MILLIONS OF USERS."
Building a test rig for the chlorine doser in 2018 in Uganda. Image via Blue Tap.
3D printing and water purification
Thanks to the low production costs and design flexibility associated with 3D printing, the technology has been leveraged several times in the past with the aim of making water supplies safer to drink.
In 2017, a multidisciplinary team at the University of Bath 3D printed a plastic 'slab' designed to provide clean drinking water to communities in parts of Asia, Africa, and Latin America. The slab's maze-like design harnessed heat and ultraviolet light from the sun to kill harmful microbes living in contaminated liquids. Meanwhile, Liquidity Nanotech developed a patented electro-spinning 3D printing technology to create a nanostructured water bottle membrane filter with 0.2 micron-wide pores.
Elsewhere, researchers have used 3D printed advanced spacer mesh to enable more productive use of reverse-osmosis to produce water that was safe to drink, which was found to reduce the cost, time, and risk of the process, while Mexican government agency Conacyt pledged to help provide clean drinking water to communities on the Pacific Coast of Mexico at the first Additive Manufacturing Consortium in Latin America.
Most recently, scientists from the University of Huelva used 3D printing to create a spiral structure capable of removing eighteen disinfection by-products (DBPs) from drinking water, with potential applications at water treatment facilities to identify and separate out dangerous chemicals.
Discussing the Blue Tap technology with Mbarara Plumbers Association in 2018
Blue Tap founder Francesca O'Hanlon is pictured centre.
Developing the chlorine doser
O'Hanlon landed on the concept of Blue Tap in 2013 during an Engineers without Borders UK project in Mexico, and founded the technology enterprise a short while after starting her PhD at the University of Cambridge in October 2016. O'Hanlon's goal was to build a simple, low-cost chlorine injector. However, at the time chlorine injectors were both expensive and complicated to assemble, which is why she turned to 3D printing to redesign the device at a more affordable price.
O'Hanlon used the Department of Engineering's Dyson Centre for Engineering Design 3D printers to begin prototyping the chlorine injector at a cost of just £1 per prototype. Through 3D printing, she was able to improve and simplify the design to increase its robustness and ease-of-use. The chlorine doser is engineered to automatically inject the right amount of chlorine into household water systems to make the water safe to drink.
The Blue Tap team claims the chlorine doser could help more than 130 million households across the globe, in addition to schools, healthcare facilities, and humanitarian settings.
The product has already undergone trials in Mbarara in Uganda, as part of Blue Tap's partnership with Cambridge-based charity Afrinspire, which runs development projects in East Africa. Blue tap sells its chlorine injectors to local plumbers while providing them with a free training course, in a bid to improve socio-economic development in the area through job creations and education. So far, Blue Tap has created a cohort of more than 30 plumbers and plumbing trainee students who have learned how to install and troubleshoot the technology before selling it on to customers in their communities.
Technical lead for the project and CTO of Blue Tap, Thomas Stakes, said: "With the climate crisis escalating and putting an ever-increasing stress on water resources and infrastructure, technology like our chlorine doser has a key role to play in ensuring sustainable safe water access for all."
Blue Tap Chief Technical Officer Tom Stakes running a training workshop in Mbarara, Uganda. Image via Blue Tap.
Blue Tap's next steps
Now that Blue Tap has received support from Innovate UK, the team is looking for potential field partners with relevant water systems to demonstrate its technology. Relevant systems include buildings with piped water from a municipal supply or domestic rainwater harvesting systems with electric pumps and header tanks.
In particular, Blue Tap is interested in working with non-government organizations (NGOs) with links to schools, households, and healthcare facilities. The enterprise hopes to begin selling the technology in emerging markets by 2021.
"We'd like to extend our thanks to Chris Woodward and Enterprise Europe Network for their continued support during the application and award administration process," added Rebecca Donaldson, assistant technical officer of the project. "We look forward to continuing our work with them to explore new potential partnerships for our technology."