Vitens and NX Filtration start pilot for river water as potential source for drinking water
Vitens, the largest drinking water utility in the Netherlands, is starting a pilot program with NX Filtration, the global provider of breakthrough direct nanofiltration (dNF) technology for pure and affordable water. In the pilot program, Vitens will use NX Filtration's dNF membrane technology to produce drinking or industrial process water from the Dutch IJssel river. The pilot program of Vitens is expected to run from October 2022 to Fall 2024.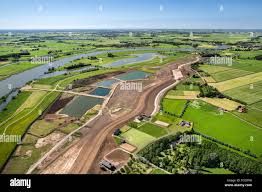 Today, groundwater is Vitens' primary source for high quality and reliable drinking water production. As a response to growing demand for water in combination with increasing periods of droughts as a result of climate change, Vitens is looking for alternatives for its traditional groundwater sources and to alternatives to supply industries. This led Vitens to start testing new technologies for additional surface water sources in order to safeguard its water supplies to households and industries for the future.
Doek Schippers, strategic advisor at Vitens comments: "We have already worked with NX Filtration's direct nanofiltration membranes in small scale testing environments. Based on these results we are now ramping-up to a multi-year testing program for the treatment of surface water from the IJssel river. This will provide valuable inputs to develop alternative sources for drinking water supply that will enable our customers to continue to benefit from healthy, safe and affordable drinking water in the future."
Erik Roesink, founder and CTO at NX Filtration comments: "NX Filtration is honored to cooperate with Vitens in this innovative journey. Our direct nanofiltration technology has already proved its value in large projects ranging from Indonesia to Sweden and Canada, demonstrating consistent high performance combined with very low energy and chemicals consumption compared to alternative technologies. In the Netherlands we are currently involved in various pilot projects on drinking water production and wastewater reuse, through which we seek to also bring these benefits to the Dutch water market."