Water Europe Vision Implementation 2020-2027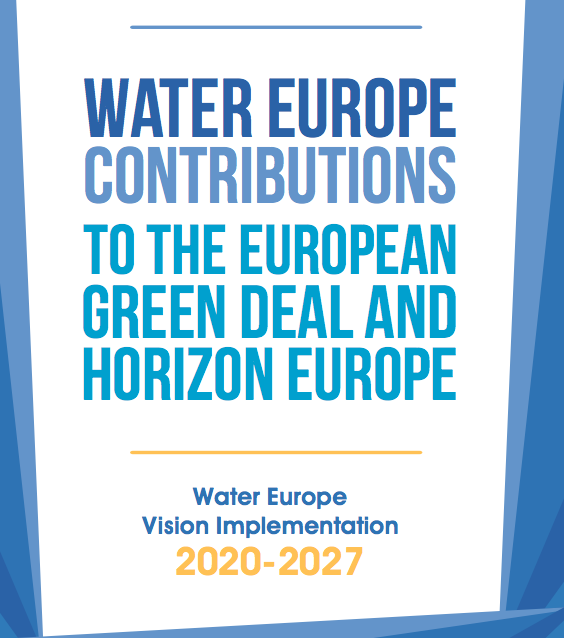 Water Europe (WE) aims at improving the coordination, collaboration, performance and competitiveness of both the water and water-related sectors in the EU and beyond. It seeks to contribute to the addressing of global challenges through research and innovation in order to ensure the true Value of Water and a Water-Smart Society. To this end, between 2016 and 2017 the organisation created the new Water Europe Vision and Strategic Innovation and Research Agenda (SIRA) in close consultation with Water Europe members and key strategic stakeholders. T
he WE Vision and SIRA were developed in order to establish a coherent roadmap capable of addressing the most important societal challenges related to water, one of the key resources nurturing human life and permitting economic development, whilst encouraging a more prominent role for water within the agenda of the R&I Framework Programme Horizon 2020.
The more recent political guidelines of the European Commission for the period 2019 to 2024 identify new, challenging priorities and changes for a future, more wealthy Europe.
The EC clearly states that Europe must lead the transition to a climate-neutral and healthy planet and a new digital World. The two most important frameworks "The European Green Deal" and "A Europe fit for the digital age" represent the effort that society must make in order to move towards a greener Europe supported by a more integrated approach to the establishment of a digital society. Furthermore, it is now clear that lessons must be learnt as a result of the COVID-19 crisis in order to foster an increased European preparedness and level of resilience to possible future events.
In what will be a major transition, water will assume an essential role as both an enabler and engine of the economy, social stability and the sustainable growth of our society.
This document, developed, once again, with contributions from Water Europe members and external stakeholders will outline how the WE Vision and the SIRA address the aforementioned European strategies and policies, as well as considering the future European Horizon Europe Framework Programme for R&I. It clearly demonstrates that the underlying values contained in the Vision and SIRA can accelerate the transition towards a regenerative model of growth that would devolve to the planet far more than what is extracted, as was advocated by the EU Circular Economy Action Plan released in March 2020.
Water Europe proposes the creation and sustainable maintenance of Water oriented Living Labs (WoLLs) as the ideal, functional and proactive mechanism required to support the systemic transition to a green and digital Europe. WoLLs foster the co-designing of innovations and capacity development integrated with effective governance models.
This text is designed to foster collaboration between water stakeholders and to inspire those who are engaged and responsible for developing the content and mechanisms of the European Green Deal and Horizon Europe. It seeks to demonstrate to such stakeholders the necessity of key water-related policy and R&I development if society as a whole is to prosper, if the global competitiveness of our economy is to be enhanced, and if the health of all European citizens is to be protected.
See attached report