Water Security Among Six "Global Systemic Risks" For Investors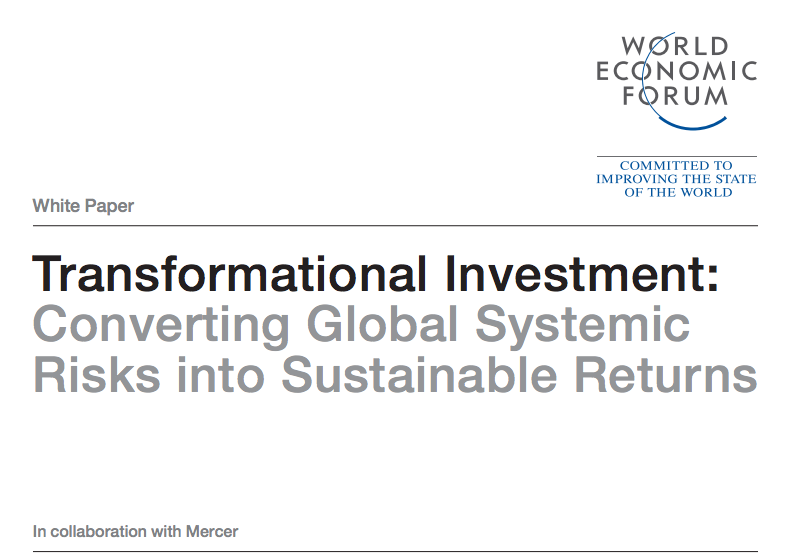 The World Economic Forum (WEF) has once again identified water security among six "global systemic risks" in a white paper which outlines a governance framework to enable the investment community to address the annual investment gap of $6.26 Trillion USD required to mitigate these risks. The other systemic risks are climate change, population growth, geopolitical uncertainty, negative interest rates and technology disruption.
"Transformational Investment: Converting Global Systemic Risks into Sustainable Returns" (see attched), released in May, provides new insights to ensure that the long-term impact of non-traditional risks and opportunities can be better understood.
"Externalities"
The impacts of a specific corporation's behaviour on the environment, the economy and society have historically been viewed as "externalities". In the absence of explicit regulation (such as fines, taxation or subsidies), these "ancillary" or "indirect" impacts have generally not been factored into the pricing of individual securities because they are not expected to "show up" in the near-term cash flows of that security.
Global stakeholders – governments, corporations, individuals and other stakeholders – have a vested interest in these externalities. Collective behaviour produces, or fails to mitigate, long-term global systemic risks that threaten the continued smooth and sustainable operation of our society, the economy or the planet.
Water Security – Global Systemic Risk
All life on Earth and most economic activity and industry depends on abundant and clean water. Cross-sector dependency on water by households, agriculture, industry, energy and transport make water scarcity and threats to water quality a significant investment risk.
Governments are increasingly partnering with institutional investors to protect functioning natural resources and to develop water infrastructure to secure the supply and distribution of clean water. These investors provide the knowledge, technology and capital that focuses development on long-term sustainable solutions.
Additional investment needed to achieve the Sustainable Development Goal Six of ensuring availability and sustainable management of water and sanitation for all is approximately $1.7 Trillion USD until 2030 – about three times the current investment levels. However, the broader needs for water infrastructure range from $6.7 Trillion USD by 2030 to $22.6 Trillion USD by 2050. In addition, water-related losses in agriculture, health, income and property could result in GDP declining by as much as 6 Percent by 2050 in some regions of the world.
Investors in water infrastructure and solutions must be sensitive to the human, cultural and social dimensions of water, the report says. With increasing population growth and growing competition over scarce water resources, we are likely to see other day-zeros as we did in Cape Town in 2018. In many regions, vulnerable populations (low-income communities, women and children) have had to pay the most and travel the furthest to access water.
While the UN declared water to be a human right in 2010, more generally, the private sector must be aware of the social dimensions to water security. Ways to mitigate water security risks include understanding historic regional water conflicts and issues, working with water regulators to provide water lifeline rates to protect vulnerable communities and working with regional stakeholders (including hydrologists, investors, businesses and water managers) on diversifying supply, sustainable water management and long-term planning.
The multiplicity of stakeholders, including investors in water-related assets, requires robust governance to align investment time frames. While local organisations may be best placed in terms of local experience and perspective, the scale of transformational water investment demands collective effort. There are 286 transboundary river and lake basins and 592 transboundary aquifers shared by 153 countries. As just one example, the River Nile – 6,500km long – flows through 11 nations.
Water risk may sometimes necessitate partnering with individual governments and country stakeholders but it often requires collaboration between governments that can be facilitated by large asset owners. Other challenges faced by long-term investors can include contract renewal uncertainty due to changing governments, and droughts that can temporarily dislocate the supply and demand of clean water, among other factors. Long-term asset owners are finding ways to engage investee companies on better water stewardship, to build sustainable solutions intended to support sustainable water management and to deliver clean water over multi-decade time horizons. Acting as responsible stewards and building trust with governments and citizens can be rewarded with attractive risk-adjusted investment returns.
Transformational Opportunities
There are many opportunities and solutions related to water security. A large number are related to ways of making food and energy production more efficient and mitigating water pollution. Food production takes up 70 Percent of human water use globally. The agricultural sector is transforming how it uses water and how it affects water supplies. Solutions include drip irrigation, satellite monitoring, precision soil moisture and nutrient monitoring. Likewise, energy production has traditionally required vast amounts of water. Newer forms of energy production using less water and limiting pollution are gaining share.
Other opportunities focus on water quality, human health or providing water infrastructure to communities and industry. Innovative developments include distributed small-scale water utility solutions for individual sites or buildings and energy production from wastewater.
The oil and gas, semiconductor and chemicals sectors all consistently rank high in terms of water-intensive operations and weight in the major global indices, and are likely to affect the quality and quantity of local water resources.
Road Map and Decision-making Framework
In the study of the six complicated global risks, the World Economic Forum and Mercer, who collaborated together for the white paper, propose a six-step framework to help investors navigate these challenges:
Understand — the overall impact on the funding entity, objectives and beneficiaries
Collaborate — with similarly situated organizations that are concerned about the same risks and opportunities
Design — governance, policies, delegation and accountabilities for material systemic risks
Invest — to manage the portfolio's exposure to the global systemic risk
Transform — through driving investment strategy that delivers change
Monitor — and revisit; apply learnings to improve policies and processes
"Asset owners face an evolving set of long-term risks and challenges, accompanied by opportunities for transformational investment. The same six-step framework that asset owners have been applying to other long term systemic risks has turned out to work well when applied to the COVID-19 pandemic and its associated impact on the economy, society and financial markets", said Rich Nuzum, president of investments and retirement at Mercer.
6 Jun 2020 - 09:04 by OOSKAnews Correspondent
NEW YORK NY, UNITED STATES