WATER SECURITY FOR A RESILIENT WORLD  //  WATER STORIES (PODCAST SERIES)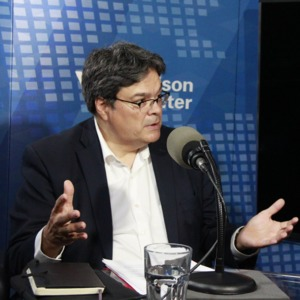 A Conversation with Rodolfo Camacho on Using Data for Water Security

This article is part of ECSP's Water Security for a Resilient World series, a partnership with USAID's Sustainable Water Partnership and Winrock International to share stories about global water security.
While there are many uses for global data sets and innovative data analysis technologies, the most important thing, Rodolfo Camacho said in this week's Water Stories podcast, i s not analyzing the data. It's the collaboration among countries sharing data. Camacho, Project Director at Winrock International and Chief of Party for USAID's Sustainable Water Partnership (SWP), sat down with Lauren Herzer Risi, Project Director of the Environmental Change & Security Program to discuss the importance of big data and machine learning on improving water security.
As the leader of the SWP project, Camacho and his team work to provide technical services and assistance to implement global water security programs. Their work covers all aspects of water security, including water for human consumption, to maintain ecosystems, and for production in the agriculture, energy, and industrial sectors. Another essential part of water security, he said, is to build community resilience to water-related risks such as floods and droughts by increasing access to safe water.
In order to develop effective water allocation and distribution plans, the team evaluates the status of water resources. Data and analytics help Camacho's team understand the amount of surface water and ground water available, trends in the quality of the water, and who is using the water in various quantities.
Compensating for Gaps in Data
Data can also fill the gaps that are often present in developing countries, said Camacho. He noted that data collection can pose a challenge in places where both data and gauging stations are scarce, inconsistent, and unreliable. When actual data is not available, AI technology and machine learning enables Camacho's team to run models and extrapolate estimates. For example, Camacho described an aspect of SWP's water allocation project in Kenya and Tanzania. "We have sections in Tanzania in the Mara River," he said, "where there are no gauging stations." Therefore, there are no records. Once we understand the water flows by analyzing the data, Camacho said, we can use what we have to calibrate models to establish rainfall patterns. The team can then use modeled quantities and develop better plans for water allocation.
Camacho described how data could be used in water allocation and planning. To develop a water allocation plan for the Mara River Basin (Kenya/Tanzania), Camacho and his team must factor in not only how much water is available, but also how much of that is being channeled to population, agriculture, and domestic usages. The Partnership applies data collection and analytics to come up with water planning systems that also take the surrounding ecosystem's needs into consideration.
In the Tonle Sap Basin (Cambodia), the project focused on communities' access to clean water. Water data and analytics are used to understand water quality and reliability. In nearby agricultural areas, pesticides and other contaminants get into the water supplies. This has a huge impact on the communities that rely on the river for fisheries. "We are not using best practices and that has an effect downstream," said Camacho. As a result, you get fish die off or contaminated water that cannot be used.
Because data is viewed as an important asset to international development and increased water security, a concerted effort has been made to standardize data formats and make global data sets more widely available. New tools are being developed to increase water security and sustainability. Data visualization and forecasting allow information on essential water variables and patterns to be accessed worldwide and then used for disaster and emergency preparedness. Camacho pointed out that these new advances will be useful tools for developing nations where big data is harder to collect. The most significant feature of emerging data technologies, according to Camacho, is these tools' ability to transcend boundaries and borders and enable cooperation to improve water security.
March 20, 2020 By Eliana Guterman