Watersight Adds Global Companies to the AquaRing Water Monitoring Pilot Program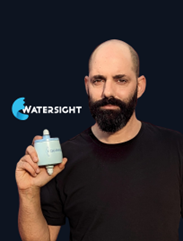 AquaRing Field Test Begins at MEKOROT's Water Monitoring Station in Northern Israel
Additional Global Water Companies Have Joined the AquaRing System Pilot Program
NESS ZIONA, Israel, Nov. 23, 2022 (GLOBE NEWSWIRE) -- Watersight, a watertech joint venture company of MEKOROT, Israel's national water company, and Newsight Imaging Ltd., a technology company that specializes in advanced CMOS image sensors for spectral analysis and machine vision, today announced the start of the field test at MEKOROT's water monitoring facility in northern Israel alongside the addition of U.S. global companies to its pilot water monitoring program utilizing the AquaRing. The AquaRing is a smart water monitoring system, a complete real-time sensing device for online water condition monitoring for water, utility, and food & beverage industries.
The AquaRing is installed in one of MEKOROT's water monitoring stations, located in the North of Israel. In addition, new large global water companies have joined the AquaRing pilot program. The new pilot program companies are among the world's leading manufacturers and providers of water equipment, heating, and water quality products and solutions. The companies are global providers of industry leading water solutions encompassing flow measurement, quality and other system parameters giving services for the global infrastructure markets.
Two additional global water companies have also joined the pilot program, including one already in an advanced phase with AquaRing installed.
Watersight's patent-pending AquaRing is based on the game-changing spectral chips developed by Newsight, powered by Machine Learning and AI, and supported by a cloud-based dashboard. The device provides an advanced Real-Time, IoT monitoring solution that provides alerts based on water conditions. From source to tap, inlet to outlet, Watersight's solution is fast, smart, and scalable at an unmatched price.
Pilot program participants receive an evaluation package that includes AquaRing sensing units, a collection of accessories, and access to a cloud-based platform. The smart water monitoring system evaluation provides a full experience of testing water quality at a small scale. Program participants work closely with Watersight experts to ensure success and to support ongoing development.
"These new pilot program member companies represent some of the largest and most innovative water technology companies in the world," said Gilad Horn, Business Development Director at Watersight. "We are looking forward to working with the new participants as we continue to enhance and develop our product and technologies. In partnership with our pilot program members, and with the teams at our parent companies Newsight, MEKOROT, and Vision Sensing Acquisition Corp., we are positioning to rapidly become a major player in smart, digital, online water monitoring."
Yossi Yaacobi, VP Engineering and Technology at MEKOROT, added, "MEKOROT strives to merge high end solutions within all water sectors, providing us the ability to improve the quality of water. Climate change and global warming provides us the opportunity to monitor in real-time the quality of water for all end users, and Newsight stands at the front of cutting-edge technology that can achieve new levels of perfection in the field of monitoring water quality at any time."
Watersight was recently chosen as a finalist in the FoodTech 2022 competition sponsored by Calcalist and Tnuva Ventures. For more information about the Watersight Pilot Program, please visit:
https://semiconductors.nstimg.com/the-aquaring
Watch the Product Video: AquaRing: The breakthrough technology for Online Water Condition Monitoring
About Watersight
Watersight (https://watersight.ai/) is a joint company of Newsight Imaging and MEKOROT. Based on Newsight's validated spectral chip technology, the AquaRing is Watersight's flagship device for online condition-based monitoring (CbM). This technology allows for real-time water and liquid analysis alerts at an unbeatable price. Enhanced by ML and AI, the device enables accurate diagnosis of the water's quality, safety, and security.
About Newsight Imaging
Newsight Imaging (www.nstimg.com) develops advanced CMOS image sensor chips for 3D machine vision and spectral analysis. Newsight's depth camera sensors for machine vision serve verticals such as Mobile & Metaverse, Robotics, Industry 4.0, Automotive Safety, etc. The company recently launched its one-of-a-kind solid-state LiDAR reference design, the eTOF™ LiDAR, based on the NSI1000 sensor. In addition, Newsight has developed its spectral chip backed by AI technology that has multiple uses in rapid pathogen detection and in continuous, condition-based monitoring of fluid flows, including water quality. Newsight's Virusight subsidiary's SpectraLIT™ offers a unique and affordable solution for remote healthcare, real time diagnosis, and quality inspection solutions for water, food & beverage, etc., including COVID detection in <20 seconds with 96% accuracy. Newsight's Watersight subsidiary's AquaRing provides real-time, AI-based monitoring of flow systems or processes, including installations for water quality monitoring, The Company has US and EU patents and has received multiple grants by the Israeli Innovation Authority. For more information visit www.newsight.com.
On August 30, 2022, Newsight Imaging announced that it has entered into a definitive agreement to become publicly listed through a merger transaction with Vision Sensing Acquisition Corp. (Nasdaq: VSAC), a publicly traded special purpose acquisition company. The transaction is expected to close as early as the fourth quarter of 2022, at which point the combined company's common stock is expected to trade on the Nasdaq Capital Market under the ticker symbol "NSIM".
About Vision Sensing Acquisition Corp.
Vision Sensing Acquisition Corp. ("VSAC") is a Special Purpose Acquisition Company ("SPAC") that has been established to focus on the acquisition of vision sensing technologies ("VST") including hardware solutions (chips / modules / systems), related application software, artificial intelligence and other peripheral technologies that assist to integrate and/or supplement VST applications. For more information visit www.vision-sensing.com.