What can coastal cities do when groundwater becomes too salty to drink, due to climate change?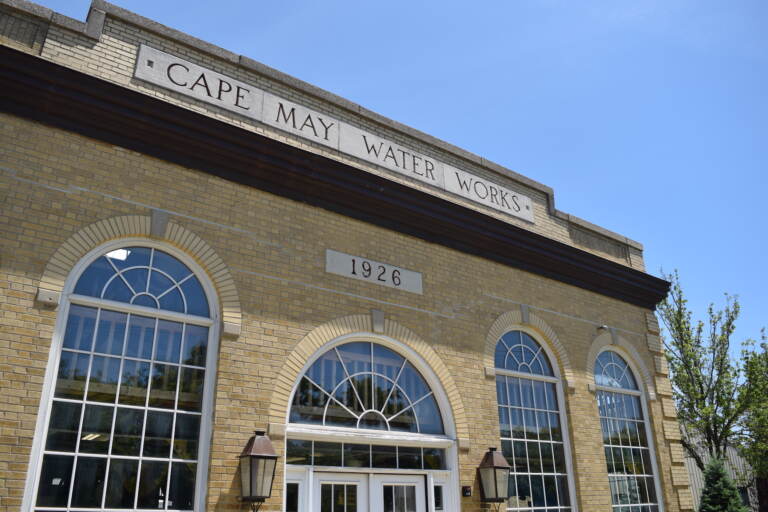 Cape May, New Jersey has a long history as a resort town with seafood, ballrooms, and Victorian-era mansions, dating back to the 18th century. The idyllic, seaside town is surrounded by ocean on three sides.
But in the 1950s, the city started to have a problem with its water supply, which comes from groundwater. Saltwater was seeping into wells, making the water undrinkable. The city had to abandon its old wells and drill new ones, over and over again.
This kept them going until 1995.
The U.S. Geological Survey and New Jersey Department of Environmental Protection told then-mayor Ed Mahaney the water supply would only last another three years. Tens of thousands of people in Cape May and the surrounding area count on the water supply in Cape May. Mahaney said the future of Cape May was at stake.
"We wouldn't have tourism; tourism is 70 percent of our economy."
The only feasible solution was desalination, a process to take the salt out of salt water, which no town in New Jersey had done before. City officials applied for state and federal grants and built a plant for 5 million dollars.
Water and Sewer Superintendent Rob Cummiskey said the plant today is a "living testament that you can make good choices and still provide a high quality and … affordable source of water to people."
The plant takes salty water from a well — 800 feet deep — into a historic waterworks building. A few powerful pumps push the water through white pipes with membranes to filter out the salt. The workers add either carbon dioxide or lime if the water is too acidic or alkaline by drinking water standards. And then, it's ready to go to taps, or one of several water towers, depending on how much water people need at the time.
Several vertical white pipes surround a grey pump in the center of a room inside the Cape May Water Works building.
A pump pushes water through pipes and filters that removes salt, making the water good for humans to drink. (Alan Yu/WHYY)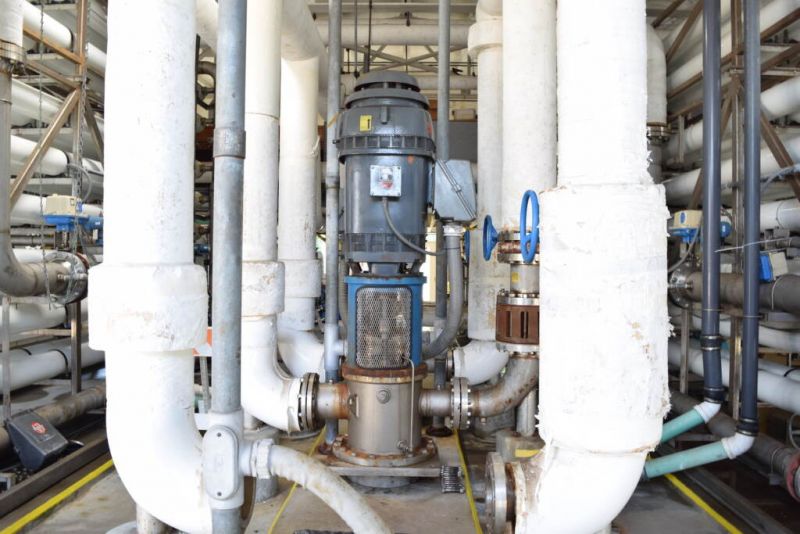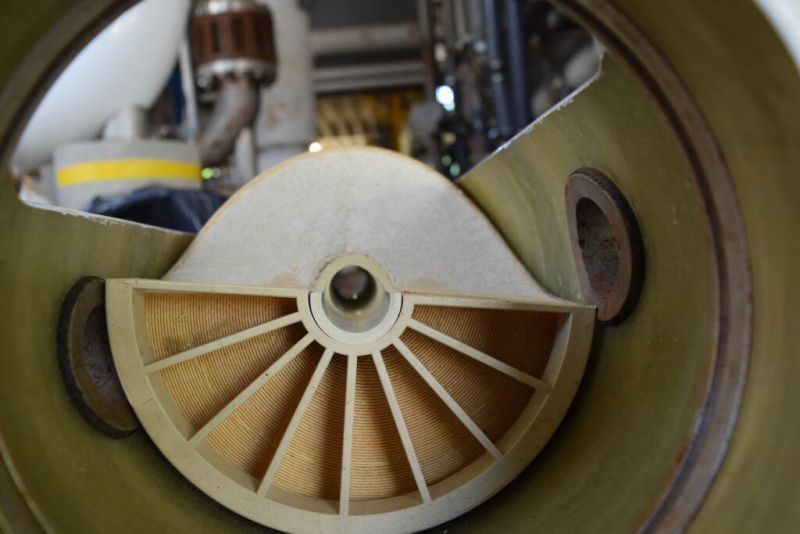 This model shows a cut open cross section of a membrane, through which the desalination plant pumps water to remove the salt.
A model shows the cross section of the membranes that filter out salt from water. (Alan Yu/WHYY)
Plant operator Joe Mendo says 70 percent of the water that goes in comes out as fresh water. The other 30 percent is concentrated salt water that goes into a nearby creek, which, he said, is not harmful because it is far less salty than actual salt water. But they still do regular checks of what comes out.
When the city first built the plant, researchers tested local plants and animals to make sure the discharge would not harm anything living in the creek.
Now, the plant is due for an upgrade.
The near century-old building is not quite holding up to the strain of millions of gallons of water going through. Mendo said the moisture is attacking the pipes and electrical systems, and a new plant would have electrical components in an environmentally protected room.