World Bank: Inside the Aggregation of Water Supply and Sanitation Utilities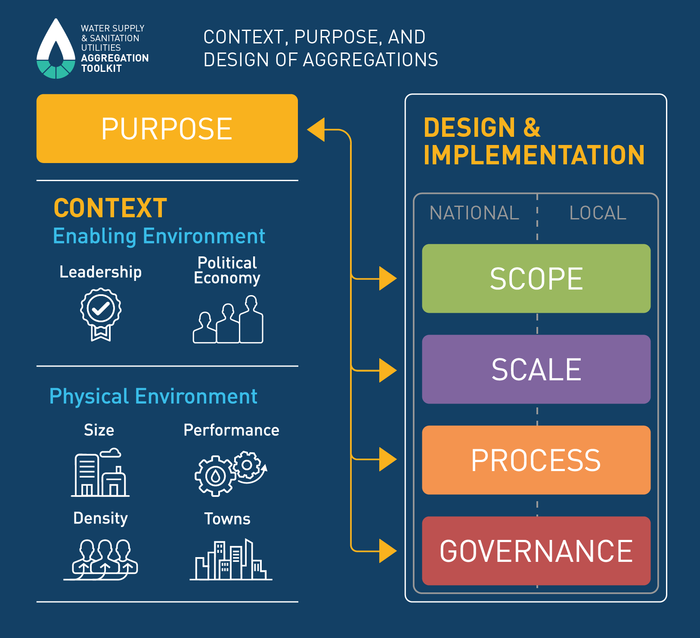 About The Toolkit
Today, over 2 billion people live without safe drinking water. Our goal: build a better future by achieving Sustainable Development Goal 6 that calls for universal access to a safe, efficient, and reliable water supply for all. Policy makers and practitioners around the world have looked at getting utility companies to work together as one way to help achieving it.
Building on a review of literature and an analysis of both qualitative and quantitative evidence, a global set of international trends, a utility performance database that covers 1,306 utilities from more than 140 countries, and a series of case studies - this toolkit aims to help understand when, why and how utility companies work together ("aggregate") successfully.
Whether you are a World Bank Group staff member, a policymaker, a researcher, a practitioner, a citizen scientist, or just curious - engage with our original toolkit resources to advance your knowledge of how to design a successful aggregation process in the water sector depending on the specific context and purpose sought.

What is aggregation? | The process by which two or more WSS service providers consolidate some or all of their activities under a shared organizational structure, whether it implies physical infrastructure interconnection or not, and whether the original service providers continue to exist or not.
The aggregation typology | The design of a successful aggregation should consider both the intended purpose and the context in which it takes place, and characterizes the design of an aggregation as a function of its scope, scale, process, and governance. The infographic below walks through the four design dimensions of WSS utility aggregation: scope, scale, process, and governance.