Xinjiang Poverty Battle: Farmers now have access to clean water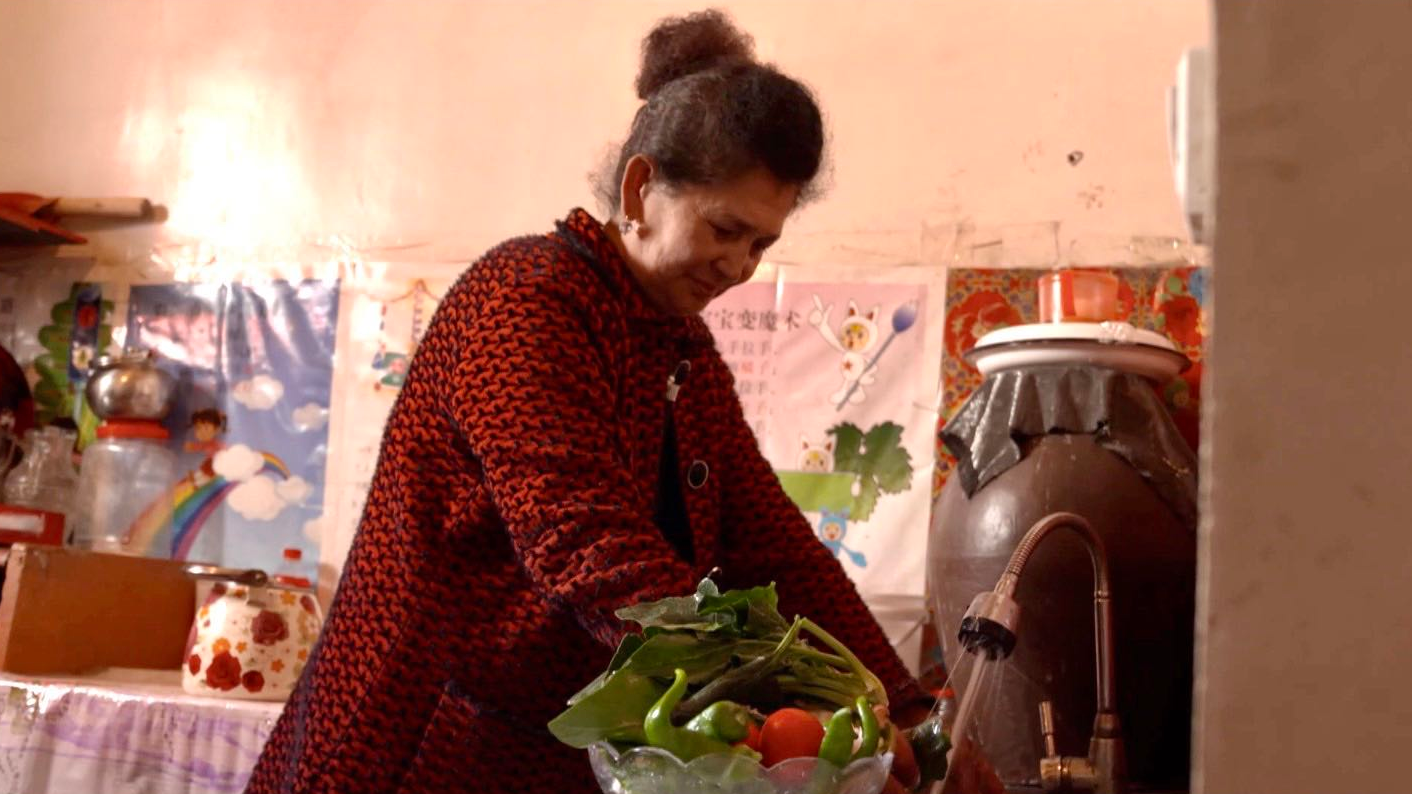 Vast southern Xinjiang, including Kashgar, Kizilsu, Aksu and Hotan, is one of the regions in China worst hit by the shortage of safe drinking water, mainly due to its harsh natural conditions.
A woman in Artux County in southern Xinjiang rinses off vegetables with tap water at home. Li Yang /CGTN
"In the past, we need to get water from afar by buckets and push carts. The water was often too dirty to drink," said Jerulla Islam, a villager in Artux county, Kizilsu Kirgiz Autonomous Prefecture.
But now, either heating water for tea, rinsing off vegetables or feeding the livestock, all it takes is a simple turn of the tap.
The neighboring Akto, China's westernmost county, which borders Kyrgyzstan and Tajikistan, faced the same headache. For decades, local farmers and herdsmen could only access surface water from rivers, which falls far short of drinking standards.
"It was impossible to use clean water during the flooding season," local Gul'azat Memethesen recalled. Her family used to live in a remote mountainous area before relocation.
Part of a water conservancy project in Akto County which ensures clean drinking water for some 30,000 local households. Li Yang /CGTN
So far, about 460 million yuan (about 65 million U.S. dollars) has been invested to ensure that each family in the county is provided with clean water.
"The money was mainly spent on the transformation of water sources, construction of 83-kilometer-long pipelines and installation of terminals including taps and water meters," Chen Shuangxi, director of the county's water conservancy bureau, told CGTN.
Now, local residents of some 30,000 households don't have to get water from nearby rivers, but can enjoy purified underground spring water at home.
"Whether it's drinking or taking bath… everything is convenient," said Memethesen.
With people's basic needs satisfied, local water authorities are now stepping up to enhance water management via platforms based on information technology.