Federal Court Upholds Protection for Arctic Seals Under the Endangered Species Act—Citing Climate Change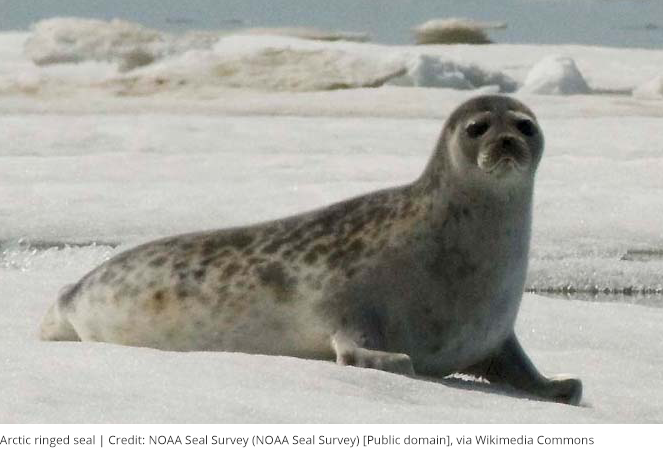 The Arctic ringed seal was given protection under the Endangered Species Act in 2012 because of threats from climate change. A recent court decision to uphold that listing might frustrate the oil and gas industry's efforts to drill in the Arctic.
Last week a federal appeals court decided that Arctic ringed seals should be protected under the Endangered Species Act. The decision comes as the sea ice where the seals' make their homes has been hitting record lows. The National Marine Fisheries Service listed the seals as threatened by climate change even though there are currently about 1.5 million of them.
Using the best available the agency determined that the seals face extinction in the foreseeable future because of habitat is disappearing due to climate change. Kristen Monsell of the Center for Biological Diversity said that the seals' habitat would become unrecognizable because of sea ice loss, and also due to lack of snow cover.
Monsell explained that Arctic Ringed Seals are very unique in that their pups aren't born with blubber so what the seals do is they build caves on top of the sea ice to give birth in and then nurse their pups until they're weaned, and without the snow cave, without the ability to build these snow caves, their pups can freeze to death or are eaten by polar bears and other predators.
Both the State of Alaska and the oil and gas industry had fought listing the seals as threatened. Now however, the federal government must designate areas that are critical for the seals, and that could affect oil and gas development that the industry wants to pursue in the Arctic.
Monsell stated that it's even more important to reduce greenhouse gas emissions, if we are going to save the seal's habitat. She added that proposals by the current administration are doing just the opposite—opening the Arctic to more drilling which would be like a releasing a carbon bomb.
Alaska and oil companies have the ability to appeal the decision, which Monsell says has very little likelihood of success.