Food companies are unprepared for global water scarcity, says new report
Global food prices, which have beenrising since 2012, may be ready for another hike.
Ina reportreleased Thursday, Ceres, a sustainable business consortium based in Boston, found that most food companies aren't prepared to deal with the water risks that it expects will lead to higher water and food prices.
"We are coming to an end of cheap, plentiful water. Most of the food companies assume that water will remain cheap, and for investors that assumption is dangerous in terms of the companies' long term profitability," said Brooke Barton, the report's co-author and director of the Ceres water program. "We feel that most companies are not addressing these risks adequately."
Water is a major ingredient in food, from bacon to pizza: growing crops and raising animals account for about70% of the world's water use, according to the United Nation's Food and Agriculture Organization.sustainable busines
It takes15,415 liters of water to produce a kilogram of beef, according to the Water Footprint Network, a Netherlands nonprofit that consults on water management and policy. A kilogram of pasta requires 1,850 liters of water.
Moreover,one third of the food production takes place where water is becoming scarce, according to the World Resources Institute, a Washington DC research group that studies water, food and energy.
Better water management plans by governments and businesses are needed, according to the Ceres report, which ranked 37 companies on their water management.
Scores were based on how the companies track water use and implement conservation plans - and whether their efforts include only their own operations or also their suppliers - as well as what companies are doing to reduce water pollution from fertilizer runoffs and other farming and production processes.
Most of the companies scored poorly. On a scale of zero to 100, 31 companies ranked lower than 50.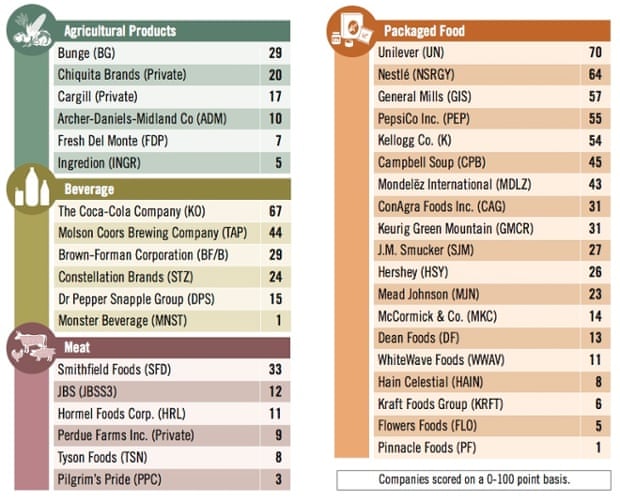 The Ceres report ranked 37 companies on their water management. Photograph: Ceres
Kraft Foods Group, the maker of Cool Whip and Oscar Mayer sandwich meat, scored a mere six points. Tyson Foods, the company behind Jimmy Dean sausage and Sara Lee desserts, got eight. Constellation Brands, supplier of many happy hour staples such as Corona beer and Svedka vodka - and wine producers including Robert Mondavi Winery and Ravenswood - received 24.
The bottom three scorers were Monster Beverage with one point, Pinnacle Foods with one point and Pilgrim's Pride with three points. Meanwhile, Unilever scored the highest at 70, followed by 67 for Coca-Cola, 64 for Nestle and 57 for General Mills.
Ceres used publicly available data, such as corporate financial and sustainability reports, to make its assessments. Four of its member companies are ranked in the report: General Mills, PepsiCo, Coca-Cola and Brown Forman.
Where companies fall short
In many cases, companies included in the report aren't tracking water use beyond their own operations, or aren't tracking it well, according to Ceres. That's a problem given that some of the top water uses come from their supply chains.
Most companies also don't have incentives in place - either internally or for their processors or farmers - for improving water conservation or reducing water pollution, the report said.
Kellogg's chief sustainability officer, Diane Holdorf, praised the Ceres report for raising awareness about the challenges companies face and giving examples of practices worth emulating.
Kellogg, which scored 54, plans to do better, Holdorf said. The company's2014 sustainability report, issued last month, set new goals for 2020. The company is on track to meet its 2015 goal of reducing the amount of water it uses per metric ton of food produced by 15%-20% from 2005 levels.
The 2020 goals include working with farmers to use water and fertilizers more efficiently and protect their watersheds. In February, Kellogg announced severalwater conservation projects, including one slated to receive$10m in federal funding, on rice farms in Louisiana and wheat farms in Michigan.
"Water is an important issue for us and for the food and beverage sector," Holdorf said. "I think all of us have plenty of work to do."
Packaged food and drink
Drink and snack makers scored the best for their water risk management plans: they tend to have more recognizable brands and are under more pressure from their customers to be good environmental stewards, according to Ceres.
Some have already seen cuts in their sales and expansion plans because of dwindling or polluting water supplies, Barton noted.
Drought punctuated by a short period of intense rain in California contributed to a28% profit decline in a carrot farming divisionof Campbell Soup Company during the last quarter of 2014. Last month,Coca-Cola abandoned a project to build a bottling plant in Indiaafter a battle from the local community over worries about depleting groundwater supplies.
Overall, packaged food and beverage companies fared better than meat and agricultural product companies such as Chiquita Brands, Archer Daniels Midland and Fresh Del Monte.
Meat and grains
Jackie Anderson, an ADM spokeswoman, declined to comment on the Ceres assessment, which gives the company a score of 10. Most of the company's processing plants that use high volumes of water are in regions where local water resources are not stressed, she said in an email, adding that ADM surpassed its goal of cutting water use 15% between 2008 and 2018 early, by the end of 2014.
Meat producers face some of the highest water risk because meat production requires so much water. Among the six meat companies included in the report, Smithfield Foods received the highest score - and that's a paltry 33.
Kathleen Kirkham, a spokeswoman for Smithfield, which makes bacon and sausages, emailed to say the company has already exceeded its 2015 goal of reducing water use by 10%, from 2008 levels, per 100 pounds of product produced, and plans to set new goals.
Tyson spokesman Dan Fogleman wrote that the report didn't take into account some of the new technologies the company been using to conserve and reuse water, leading a 14.7% cut in the gallons of water used per pound of finished product "over the past several years". He said the report also "mischaracterized" the company's North American wastewater discharge as pollution. "The water we release back into the environment has been though a government-permitted treatment process," he said.
Barton said she did consider the water saving technologies in her assessment, but Tyson lost points for not having a publicly stated water reduction goal. Ceres's evaluation - which didn't address the regulatory compliance of wastewater discharge - was based on the most recent public data reported to the US Environmental Protection Agency, according to which Tyson was responsible for the largest wastewater discharge in the US, she said.
"Those discharges are permitted, but are still labeled by the US government as a form of pollution," Barton said.
Some of the companies declined to comment on the report - such as Hormel Foods and Constellation Brands - or didn't respond to requests for comments by press time, such as Dr Pepper Snapple Group.
Best practices and next steps
Ceres also highlighted examples of strong water management policies. For example, Campbell Soup, Dean Foods, Molson Coors and Unilever offer executives financial incentives for achieving water management goals.
Coca-Cola, General Mills, Kellogg, Nestle and Unilever have deadline-driven goals to expand sustainable water management practices, which range from planting cover crops to reduce water runoffs and soil erosion to capturing and storing rainfall, across the majority of their suppliers.
The report also recommends several things the industry can do to improve.
While some companies require reporting from their suppliers, it's not clear how they use the data to make better purchasing decisions or to help their suppliers improve. Creating new standards for reporting and data collection could help reduce the amount of time farmers and other suppliers need to spend filling out surveys - and could lead to industry-wide solutions.
Ceres recommends that companies work more closely with their suppliers, including farmers, to collect good data, secure water supplies and conserve more. Businesses should also support watershed protection and report water risks regularly to their board of directors and shareholders, the group claims.
Meanwhile, investors who want to include water risks in their financial analyses should demand more comprehensive water use reporting from their portfolio companies and make investment decisions accordingly, Ceres suggests. According to the report, they should consider three key factors: how much water is needed, how secure the water supply is, and how the management deal with water scarcity, pollution and other related risks.
"Right now, a lot of what we are producing is linked to the fact that water is free," Barton said. "We will see a shift."
Source: The Guardian