Kumbh is Fine but Why is Ganga not Kept Clean All the Time?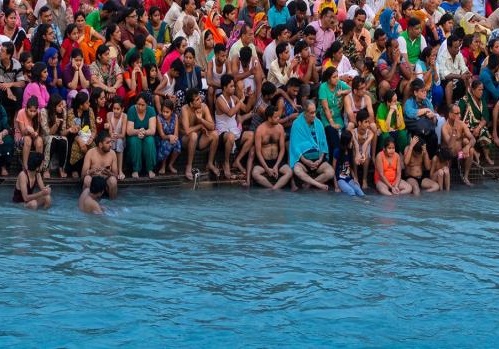 The Uttar Pradesh (UP) government is being praised for making river Ganga's water 'clean' for the ongoing Ardh Kumbh . But why can't the same effort we made across the year, or every year during the same season?


Bathing ghat on the Ganges during Kumbh Mela, 2010, Haridwar (Image by Edson Walker / Wikimedia commons , labeled for reuse)
The state irrigation and water resources department has been releasing extra water into the river, from various barrages and dams every day since preparations for Kumbh Mela 2019 started.
Mustak Ahmad, joint secretary in the department, told Down To Earth,7,000 cusecs of extra water are being released every day since the Ardh Kumbh started and it will continue till it ends. On the days of ' shahi snan ' or royal bath, 8,000 cusecs is being released."
This year, Kumbh started on January 15, 2019, and is set to go on till March 4, 2019. The ' shahi snan ' falls on February 4, 9, 10 and March 4, besides January 15 and January 21, 2019.
It seems that the government wanted to leave no stone unturned this time. A UP Pollution Control Board (UPPCB) official says, "The previous Kumbh did not see even one-tenth of this much water in the Ganga at Prayagraj. The volume of water released is at the maximum this year compared to last two-three Kumbh events."
Gopal Nishad, a boatman at Sangam in Prayagraj, says, "We have never seen such clean Ganga earlier. Also the level of water this season seems unprecedented. Obviously, this much more water makes the Ganga appear clean like never before."
This shows that the water quality has been improved through dilution and stopping pollutants from entering into the river. Thus, the government seems to have taken a course which implies that dilution is the solution to pollution.
Nishad's claim finds support in data as well, since the biochemical oxygen demand (BOD) and dissolved oxygen (DO) levels are in the subscribed limits. According to the Central Pollution Control Board (CPCB), the river water can be fit for bathing if the BOD level is less than 3 mg/l, and DO is more than 5 mg/l.