Recycling of Waste Water and Reuse System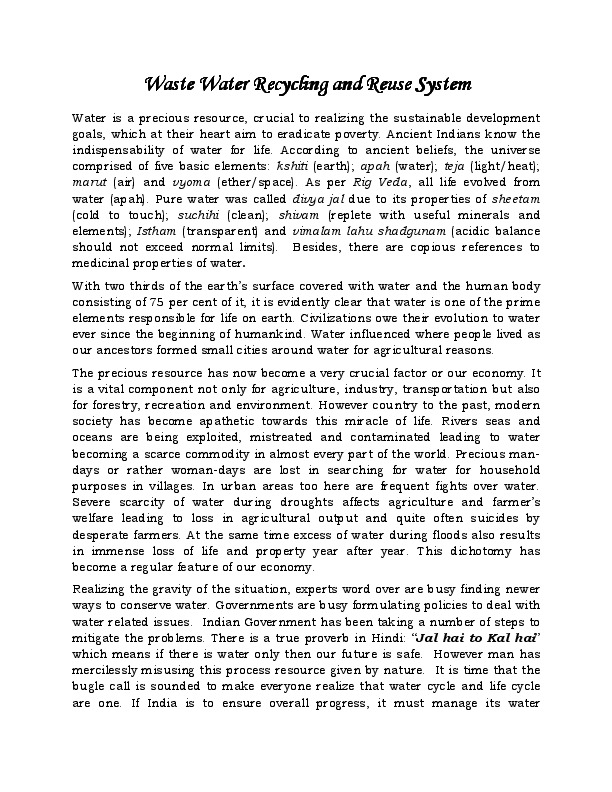 Guru Arjan Dev Institute of Development Studies has planned to organize its 7th IDSAsr National seminar on the theme Recycling of Waste Water and Reuse System in the month of November 2016 (November 25 - 26, 2016).
All are invited to contribute their well-thought research paper on any of the sub-theme within the main theme of the seminar. One can also attend the seminar without a paper. Your valuable contribution must reach us before the end of October 2016. However, earlier submission will help us in its publication in a better manner.
You are also requested to rush an abstract of the paper at an early date to enable us to plan the seminar in a better manner. Paper in absentia will also be considered. Also gave wide publicity among your network. For more clarification contact at idsasr@outlook.com or visit at www.idsasr.org
All the papers accepted and presented at the seminar will be published as Proceedings of the seminar with ISBN no of the institute. Institute will take care of local logistics (lodging boarding etc) such as accommodation foods and local travel to the registered delegates.
Sponsorship for the conference is welcome and will be gratefully acknowledged. We will be highly obliged if you may very kindly favour us with your support financially or otherwise. You can support any of the event/session of the seminar. We request sponsorship in the following categories:
Main Sponsor—75K
Co-Sponsor- 50K
Supporting Sponsor- 25 K
Other Areas for Sponsorships:
1. Registration Kit – [Registration Partner]
2. Refreshment [Hospitality Partner]
3. Venue— [Venue Partner]
4. Banner, Venue arrangement [PA system, Flower etc] [Event Partner]
5. Memento for resource person and inaugural and valedictory Session
6. Accommodation Partner for delegates stay.
7. Publication Partner
Alternatively, you can also insert an advertisement in the publication of the seminar. Our tariff rates are Rs Ten thousand for A4 size BW page and Rs five thousand for half page. For coloured page, rate will be Rs thirty thousand. No half page coloured advt. Your advt material along with the payment in favour of The Director, GAD Institute of Development Studies payable at Amritsar should be sent at the earliest possible. Payment can also be deposited in institute bank account directly:
Title of the Account: The Director, GAD Institute of Development Studies, Amritsar
Account No. : 11832151020110; Name of the Bank: Oriental Bank of Commerce;
Address of the Bank: Diamond Avenue, Majitha Road Amritsar;
IFSC Code: ORBC0101183
Looking forward to early date favourable response.
See you soon here the holy City of Golden Temple
With warm personal regards,
Dr. Rajinder Singh Bawa Chairman, RAC
Dr. Gursharan Singh Kainth
Director
Guru Arjan Dev Institute of Development Studies
14-Preet Avenue, Majitha Road
PO Naushera, Amritsar 143008