Calling All YP Researchers: USCID Agricultural Water Reuse Conference Call for Abstracts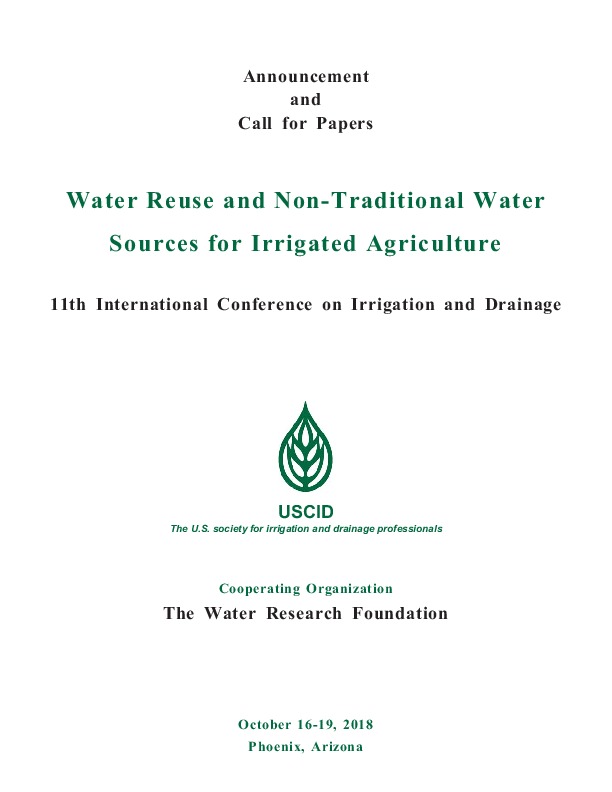 The Water Research Foundation is partnering with the US Committee on Irrigation and Drainage on the 11th International Conference on Irrigation and Drainage on October 16-19 in Phoenix. The theme for the conference this year is "Water Reuse and Non-Traditional Water Sources for Irrigated Agriculture." Topics covered include:
· Water reuse in agriculture
· Non-traditional sources of water
· Infrastructure Issues
· Regulatory Issues
· Public Perception
· Groundwater
This conference will provide a forum for water and wastewater agency staff, irrigation and drainage specialists, consultants, equipment suppliers, academics, etc. to share innovative solutions and learn from each other's experiences. Water resources professionals from around the world are also encouraged to attend.
This is a great opportunity to showcase your research! Please consider submitting an abstract by March 30 and encouraging others to submit. The call for papers is attached. Please don't hesitate to reach out with any questions to kvandenheuvel@waterrf.org.
We hope to see you there!