EFFICIENCY OF HyDROLUIS DRAIN PIPE-ENVELOPE COMBINATION ON SUBSURFACE DRAINAGE SYSTEMS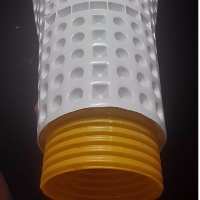 In order to increase water flow and prevent clogging problems worldwide, Organic, Mineral and Synthetic type of envelope materials are being used on Drainage pipes in order to save the investment and have long life underground. In this regard, Gravel & Sand Envelope materials, Geotextile Envelope Materials, French Drain (Gravel & Sand plus Geo-textile envelopes) are available in the market. The efforts of all such filter systems are to overcome the clogging issue. However, a hundred percent success rate could not be achieved yet (FAO). The most important works on these issues were being done by United State Bureau of Reclamation (USB), McGill University and the International Institute of Land Reclamation and Improvement ILRI, Wageningen University . We can search through their reports on these subjects and notice that clogging problems are one of the most discussed topics of the 21st century. Regarding International Commission on Irrigation and Drainage ICID very important commission works engaged with the World Food and Agriculture Organization FAO working on this subject too.
Our company signed on definitive solution to the clogging/maintenance problems in the drainage pipe by a valuable invention of this century and have developed the Patented HYDROLUIS® Drainage Pipe Systems . With this new technological innovation, we started the production of Hydroluis® drainage pipe systems invented by Mr. Lui TOPALHASAN in Istanbul city and President of Turkish National Committee of ICID (TUCID) president Mr. Ali RIZA DINIZ General Director of General Directorate of State Hydraulic Works, TURKEY (DSI), Nominated as our new Technology for Watsave Awards Program 2015 to ICID organisation.
Characteristics of Hydroluis® Drainage Piping Systems ;
First Anti-Plant roots Drainage pipe On the world. (It does not emit moisture from the pipe holes ).

Anti-bacterial (Iron Oxide was effecting Iron Ochre, Calcium carbonate and sulfate was effecting bio-film clogging problems on other drain pipe envelope).

First drainage pipes saving the underground water in drought seasons . Works only when water table rises above specified levels.

Water flowing Best performance in any soil texture triangle ( Entrance Resistance ) . Minimum sediment than all envelope systems during land fit period.

Eliminates requirement for annual maintenance or internal cleaning of drainage pipe and guarantees the strength life cycle and operational performance of plastic.

Showing longer-term operating performance in all types of soil conditions as compared to competing drainage systems.

Long term operating costs of the drainage pipe proves to be the most cost-effective .

After laying the system, disadvantages of growing plant roots are turned in advantages as this system increases water flow in the direction of drainage pipe.

Usable in shallow impermeable grounds , i.e., near the plant roots
So i will be happy to create discussion goup in water network
if there is any question or topic i am here to discuss it. for more details about this www.hydroluis.net have all result and photos