Energy Globe Award 2017: Sustainable Projects Wanted!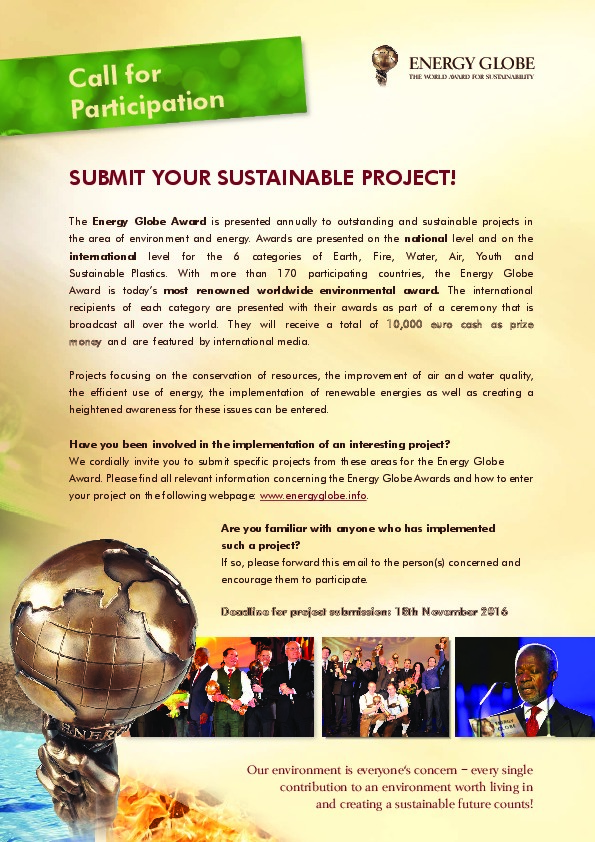 The Energy Globe Award honors each year outstanding, sustainable projects in the field of environment and energy.
Projects with a focus on the conservation of resources, improvement of air and water quality, energy efficiency, use of renewable energies, recycling or creating awareness for these areas can be submitted.
All details about the Energy Globe Award and how to participate are available at www.energyglobe.info.
Deadline for submissions: 18th November 2016.
The Energy Globe Award with 177 participating countries has become the largest environmental prize worldwide. The international category winners are awarded in a ceremony which is broadcast all over the world, receive a total of 10,000 Euro as prize money and are in the spotlight of international media coverage. Awards are given away on an international level in the 6 categories Earth, Fire, Water, Air, Youth and "Sustainable Plastics".
Your project can rise into the top league, too!
Take part and use the chance to present your project to a worldwide audience!
See more at www.energyglobe.info!