Free Trade Facilitates Water Pollution and Over-exploitation of Rivers and Aquifers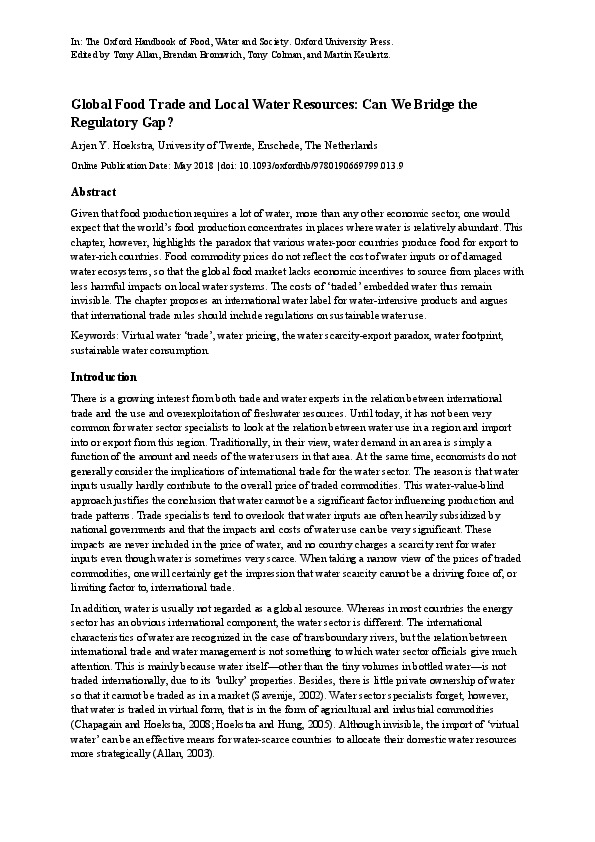 We know all the precise statistics on food trade in the world. We also know where water is polluted and over-exploited by agriculture. For every country we can exactly trace where its food comes from and to what degree the water is being used unsustainably in these places of origin.
For instance: 50% of the water footprint of the food consumed by UK citizens is in places where groundwater or rivers are over-exploited. In a chapter in The Oxford Handbook of Food, Water and Society (now online, later on in book form), I discuss how free-trade agreements drive us to buy cheap unsustainable stuff from places where water is polluted and overexploited.
This is made possible by the so-called "nondiscrimination" principle, which forbids us to discriminate in trade, also not between sustainable and unsustainable products. We still live in a world upside down, where short-term economic interests come before a healthy Earth, while every child can understand that without a healthy Earth we will have no economy in the long run.
Download the book chapter: http://ayhoekstra.nl/pubs/Hoekstra-2018-chapter-OUP.pdf