Pakistan needs effective planning and strategies to overcome water scarcity for the future: Experts revealed on the occasion of World Water Day Conference 2015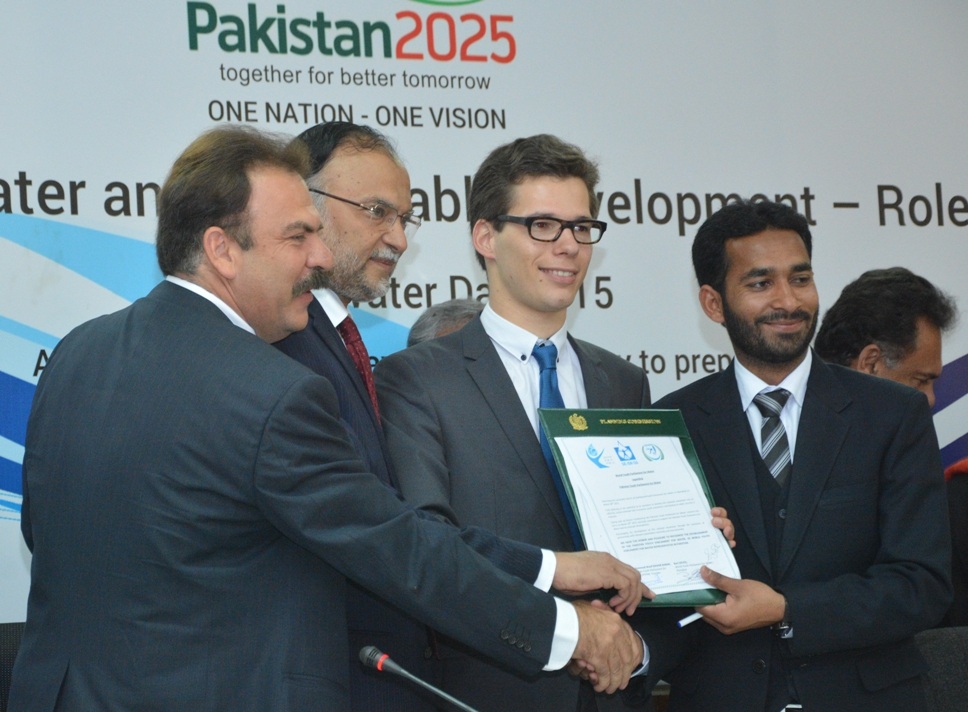 To mark the UN-World Water Day (WWD) 2015, the Planning Commission, Ministry of Planning, Development and Reform, Government of Pakistan in collaboration with over 28 partner organization, a conference on March 27 focusing on this year's global theme, 'Water and Sustainable Development - Role of Youth for Sustainable Water Resource Management' was organized in the Planning Commission Auditorium, Pak Secretariat, Islamabad. Pakistan Water Partnership, World Youth Parliament for Water and Pakistan Youth Parliament for Water conducted and organized the conference as a lead agency of the collaborating partners.
The conference aimed at sensitization of key stakeholders on critical water issues and challenges; engaging stakeholders especially youth ; advocating with the Government of Pakistan for approval of National Water Policy and building consensus for the adoption of Islamabad Water Day Declaration 2015'. The conference is organized in collaboration with World Youth Parliament of Water (WYPW), UNESCO,Pakistan Council of Research in Water Resources (PCRWR), Pakistan Water Partnership (PWP), International Centre for Integrated Mountain Development (ICIMOD), Economic Cooperation Organization Science Foundation (ECOSF), Asian Development Bank (ADB), World Health Organization (WHO), UNICEF, FAO-UN, UNHABITAT, Plan International, Muslim Aid, Helping Hand for Relief and Development,GLOF Pakistan, UNDP, RSPN, ICARDA, Riphah University and WaterAid.
Mr. Bart Devos, President of World Youth Parliament for Water said that access to clean water and sanitation as well as water scarcity, were among the most pressing challenges for young generation. He said that creation of Pakistan Youth Parliament for Water would contribute to unlocking the potential of Pakistani young people as solution provider for the water problems.
The Inaugural session concluded with signing of the Memorandum of Understanding (MOU) between the World Youth Parliament for Water and Pakistan Youth Parliament for Water by Mr. Bart Devos, Mr. Muhammad Raza Ali Gandapur and Mr. Muhammad Wasif Bashir Baber, representatives of the organizations.