Reasons of low water use efficiency in irrigation Projects in India.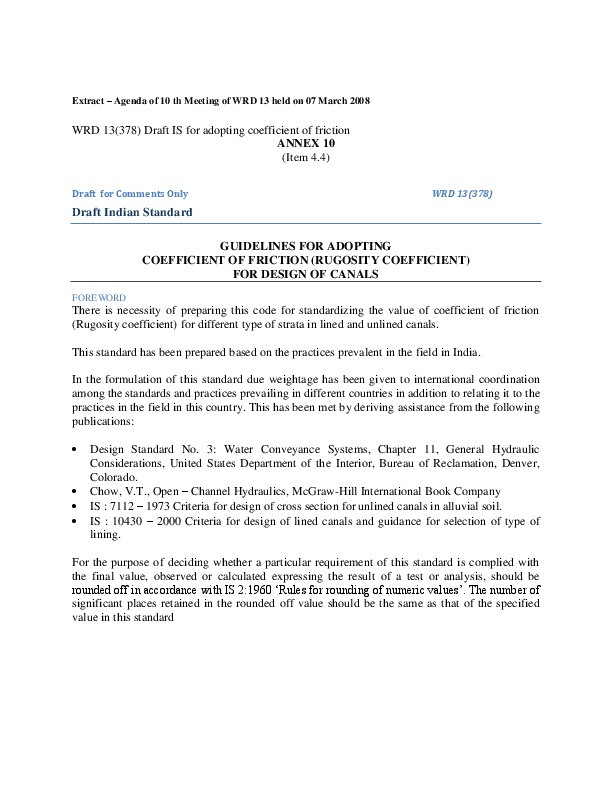 Low water use efficiency in irrigation projects in India, is due to non consideration of head loss across different canal structures in canal design and non inclusion of construction of water courses as part of the Project report. I submitted a draft IS code in WRD 13 for " Design and Construction of Water Courses " more than ten years ago, but it has not been finalized and sent for printing by the Bureau of Indian Standard.
In July 2003, in WRD 13, I also submitted a draft code titled " Guidelines for Adopting Coefficient of Friction (Rugosity Coefficient) for Design of Canals" ( see as attachment). This is available at https://drive.google.com/?tab=mo&authuser=0#folders/0B7OEEuzHbopKU2VKaG1Oc1ozQUU
In agenda of tenth meeting of WRD 13 the comments of SSNNL, CES, CDO Nasik, NHPC Ltd, CWC & WALMI were discussed. But later on this draft code was dropped by the committee. The ponding level of Kota Barrage was raised by two feet in seventies, as there was head loss in initial portion of Right Main Canal supplying water to Madhya Pradesh and RMC was not able to run with design discharge. A copI invite comments of peers on these two points.